Festival of Virgin Angustias - the Patron Virgen of Granada
On the 15th and the last Sunday of September are celebrated respectively Ofrenda Floral and the procession of Virgin Angustias (Our Lady of Sorrows), the patron virgen of Granada.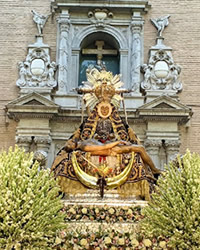 The streets of Granada are filled with people from all over the city, province and neighboring towns.
The whole september is dedicated to Virgin Angustias, during thirty days local governments of Granada come to Basilica of Virgen Angustias to worship her.
These days were deeply rooted in local customs, which usually comes a lot of visitors from all towns in the province, and in which the popular fervor attached to the environment around the positions of typical fruits of autumn shows a single image of the city.
The facade of Virgen Angustias church is covered with flowers brought by the devotees and creating a beautiful floral mosaic.
The Basilica Nuestra Senora de Las Angustias is located between Puerta Real and the Corte Ingles, in the Carrera del Genil.
More information in:
Virgen Angustias Church
©
Copyright
• LoveGranada.com • The reproduction of the whole content or parts of it is prohibited
Personal data
protection policy
.
You Might Also Be Interested In