Virgen de las Angustias 2022 Festivities - the Patroness of Granada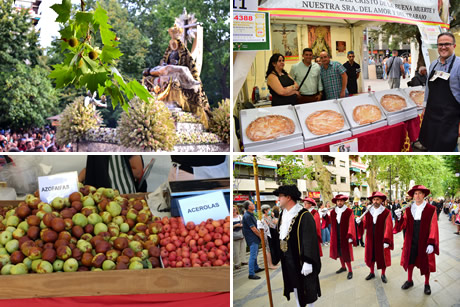 Throughout the whole month of September many ceremonies take place in honour of the Patroness of Granada.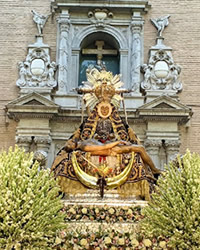 ☞
Use this
opportunity to experience Spanish culture
, enjoy a genuine performance by renowned flamenco artists.
☆
Flamenco Tablao Jardines de Zoraya
: let yourself be seduced by
flamenco and the exquisite gastronomy
, enjoy music and dance while discovering the taste of Granada.
☆
Flamenco Show at La Soleá
: enjoy a
unique atmosphere
, experience and feel the tradition and passions of flamenco.
The local government, different organisations, professional bodies, etc... come to the Basilica to pay public tribute to Her.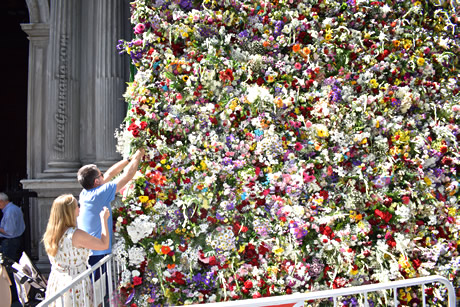 On the 15th of September thousands of people come to the Basilica de las Angustias to place a bunch of flowers on its facade.
They come from all over the province to offer a floral tribute to the Virgen de las Angustias (Our Lady of Sorrows) and they are willing to queue up for hours to do so.
This popular cermony is called
Ofrenda Floral
. The beautiful floral mosaic that they create will decorate the Basilica for many days.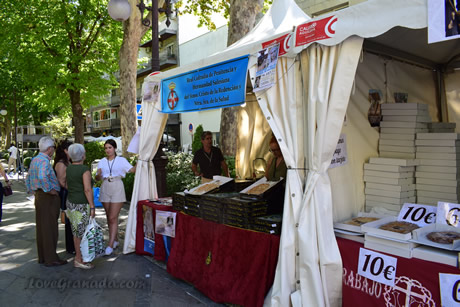 The last Sunday of the month, the solemn
procession of the Virgen de las Angustias
is held. The streets of Granada are filled with people from all over the city, province and neighbouring towns.
It is a deep-rooted custom to install an
Autunm market
near the Basilica to sell the first fruits of the season.
The stalls are installed around Fuente de las Batallas and they sell chestnuts, quince, pomegranates, jujube berries and wild crapemyrtles.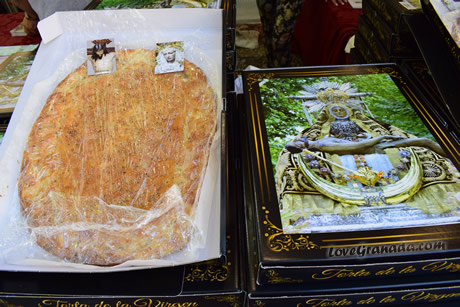 However, the star product everybody wants to get hold of is the Torta de la Virgen, a traditional pastry baked in wooden ovens and filled with sweet pumpkin.
This traditional sweet is made specially for this festivity and it´s available only during this week.
The Basilica de Nuestra Señora de Las Angustias is located between Puerta Real and the Corte Inglés, in Carrera del Genil.
More information on:
Basilica Virgen de las Angustias
You Might Also Be Interested In
Page Updated: May 10, 2021
©
Copyright
• LoveGranada.com • Any use of the content, including copying of it in whole or in part is prohibited.