Cartuja Monstery - Monasterio de la Cartuja de Granada
Monasterio de la Cartuja was formerly a Roman cemetery. In 1506 the Great Captain donated land to the monks so that they could build the Monastery. Construction was interrupted so that three centuries later it was still not completed.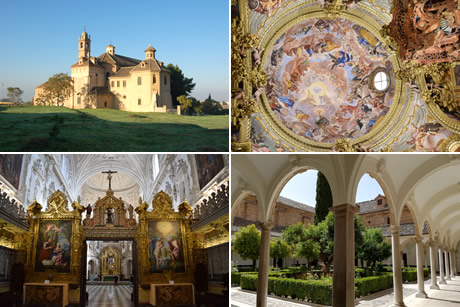 You can enter the Cartuja Monastery through a simple patio with arches. Inside the monastery you will first see the Refectory and the Church.
The Church has a single nave divided into three parts. The first part was for the monks, the second part immediately behind this for the laity, and the third, near the door of the church, was for the people.
What really has given fame to the Monastery of the Cartuja in
Granada
is the sacristy, to the left of the presbytery.
The Sacristy has a dazzling appearance hard to describe because of the chromatic richness of its marbles.
The Cartuja Monastery is an example of a unique Baroque style and offers great paintings and sculptures of the Granada School.
Get Directions
The Cartuja Monastery is located on the outskirts of Granada, about two miles from the city centre, so it's best to take any of these
city buses
number: N7, U1, U2, U3.
The stop where to get off is either 'Science Education' or 'Paseo de Cartuja'.
Opening Hours
Cartuja Monastery is open from Monday to Sunday.
Winter: 10:00 to 13:00, from 15:00 to 18:00
Summer: 10:00 to 13:00, from 16:00 to 20:00
Contact Information
Address: Cartuja Monstery, Paseo de Cartuja, Granada. Phone: 958 161 932
Entrance Price of Cartuja Monstery
Entrance Price of the Cartuja Monstery is 3,50 euros
©
Copyright
•
LoveGranada.com • The reproduction of the whole content or parts of it is prohibited
Would you like to leave a comment about the Cartuja Monastery?