Mirador de San Nicolás in Granada - Spectacular Views of the Alhambra and the Sierra Nevada
The
Mirador de San Nicolás
is perhaps the
most famous viewpoint in Granada
. Since ex-US president
Bill Clinton
visited in 1997 and said it has "the most beautiful sunset in the world", the Mirador de San Nicolás has become a
must-see for tourists
.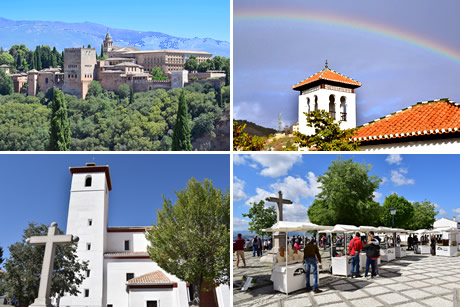 ☞
If you want to
enjoy a special visit
these guided tours offer unique opportunity to discover Granada.
☆
Alhambra + Albaicín + Sacromonte Tour
: a
combination of the complete tour
of the Alhambra (Palaces, Alcazaba, Generalife) + the Albaicín + the Sacromonte.
☆
Albaicin and Sacromonte Guided Tour
: discover this
old arab quarter
of Granada with this
guided tour
.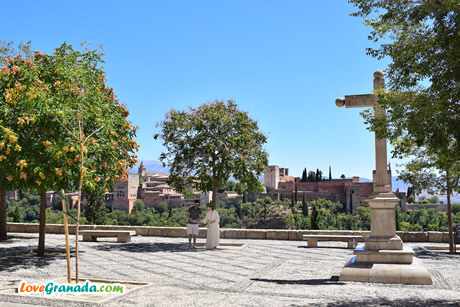 The
beauty of this viewpoint is undeniable
, with
the Alhambra
and
the Generalife
face to face, the city at its feet, and the magnificent
Sierra Nevada
behind.
The Mirador is located in
the Albayzin neighbourhood
and is famous for the charm of its surroundings, its cobbled streets, white houses,
tapas bars
, and its people.
Just next to the viewpoint is the
Church of San Nicolás
of 1525 in the Mudejar and Gothic style, built on a mosque like many other
churches in Granada
.
This church gives its name to the Square and the viewpoint.
At present the church is closed for restoration. It forms an inseparable part of the viewpoint of San Nicolás and no doubt it shall be preserved for generations.
The Mirador de San Nicolás can be very crowded, especially at sunset and at weekends.
How to Get to the Mirador de San Nicolás?
You can
get to the Mirador de San Nicolás
from
Plaza Isabel Católica
in the small 'microbus' (
Alhambra Bus
) route C31 and C32 that go to the Albayzin.
If you like exercise, you can walk up the hill through some
very pretty little Albayzin streets
(and probably get a little lost along the way!).
Start at
Plaza Nueva
, walk along the
Paseo de los Tristes
,
Cuesta del Chapiz
, and turn left when you reach the Church of El Salvador, and then keep going along the Carril de las Tomasas.
Where to Eat at the Mirador de San Nicolás?
There are
several places
where you can eat well at the Mirador de San Nicolás. Some offer
magnificent views of the Alhambra
and the Sierra Nevada.
If you want to eat enjoying the views, these restaurants are perfect but invariably expensive.
If you have already enjoyed the views of the Alhambra and
want to spend less
, there are some restaurants about 50 metres from the viewpoint which have no views but offer good, inexpensive food.
Some restaurants near the Mirador de San Nicolás:
Restaurant Balcón de San Nicolás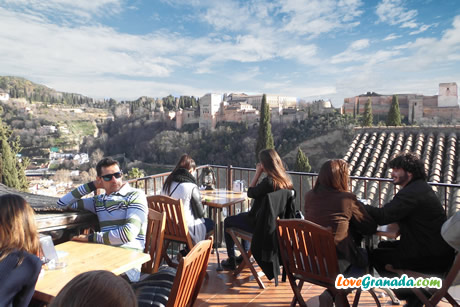 It has an
impressive terrace
with about 10 tables, located just below the viewpoint offering stunning views. As you can imagine, in good weather it is full.
Some of their dishes
: Fried squid - 18 euros, gilthead fish - 18 euros, seafood and vegetables - 25 euros, Cod Gitano - 25 euros, beer and soft drinks - 2.50 euros.
Restaurant Huerto de Juan Ranas
Another restaurant with
great views of the Alhambra
and Sierra Nevada, from where you can also see almost
all of Granada
.
As always, if a restaurant is in a prime location, it will be expensive, but the food quality, service and the views are worth it.
The terrace is larger than the Balcón de San Nicolás; it has about 20 tables. There is usually a queue to enter. It is located below the Mirador de San Nicolás, slightly to the left.
Two completely different menus exist for the terrace and the interior hall. A special menu for groups is also available.
Prices
for main courses are around 22-26 euros, for example: Rabo de Toro - 22 euros.
Restaurant Estrellas de San Nicolás
It has a terrace overlooking the Alhambra, also tables behind the restaurant, but with no view.
Just
next to the viewpoint
there is a small restaurant: Estrellas de San Nicolas. Just next to the viewpoint is this small restaurant. The dishes are delicious but expensive, as in most restaurants in this area.
Apart from the menu (carta), they have a three-course daily menu (menu del día), which costs 21 euros. You can choose between three starters, three main courses and three desserts.
In comparison, the price of a similar daily menu in the
centre of Granada
is around 10-15 euros.
Some of their dishes
: Salmorejo (tomato and bread purée) - 10.50 euros, goat's cheese salad - 12.50 euros, aubergines with honey - 11.50 euros, Tuna Tartar - 19.50 euros.
Bar Kiki and Restaurant el Mirador
These two restaurants are just
behind the Mirador de San Nicolás
and the church, next to each other with no terrace boundary between them.
They do not have views, but the
prices are quite reasonable
compared with other restaurants in the area.
There is a good atmosphere, with typical dishes and tapas from Granada, and lots of people. Here you can eat good fish or rice.
Some of their dishes
:
Restaurant el Mirador
: Fried squid – 9.50 euros, beef sirloin - 14.50 euros, fried anchovies – 8.90 euros, Caesar salad - 6.50 euros, Salmorejo – 4.50 euros.
Kiki
: Fried squid - 10 euros, fried anchovies - 10 euros, Cazón: 10 euros, various fried fish: 16 euros.
You Might Also Be Interested In
Page Updated: Aug 17, 2020
©
Copyright
• LoveGranada.com • Any use of the content, including copying of it in whole or in part is prohibited.
Opinions about Mirador de San Nicolas in Granada
Overcrowded
We heard so much about this beautiful spot in Granada that were very keen in visiting it during our 3 days trip. According to all recommendations we had to be there to watch the sunset and we managed to make it one day.
The view is awesome, but I found the place too crowded and noisy. I couldn't enjoy it. However, I really enjoyed walking in the surrounding area. It´s charming and much more quiet.