What To Do in Sierra Nevada - Winter Sports and Fun Activities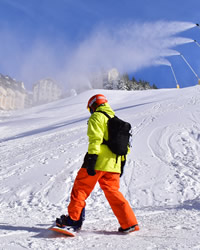 The ski season in
Sierra Nevada
usually starts late-November and runs until early-May, much longer than any other ski resort in Spain. This season should start on
20 of November 2021
.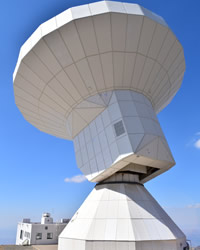 ☞
If you want to
enjoy a special visit
these guided tours offer unique opportunity to discover Granada.
☆
Alhambra + Albaicín + Sacromonte Tour
: a
combination of the complete tour
of the Alhambra (Palaces, Alcazaba, Generalife) + the Albaicín + the Sacromonte.
☆
Albaicin and Sacromonte Guided Tour
: discover this
old arab quarter
of Granada with this
guided tour
.
Apart from skiing, there are many winter sports and fun activities you can enjoy in Sierra Nevada.
Discover the fun area called
Mirlo Blanco
, where you can practice ice skating or get a ride in the
Russian sled
, among other things.
Some of the most popular activities include snowboarding, snowshoeing, sunset excursions and stargazing.
Sierra Nevada for Skiers
Sierra Nevada offers lots of exciting activities for skiers who are looking for adventures and thrills.
Experienced skiers can have a lot of fun compiting with friends, family or colleagues, like a professional team.
Competitions
can be organized according to the group needs. They offer a closed slope for competition, test marking, numbered racing bibs, official timing and results.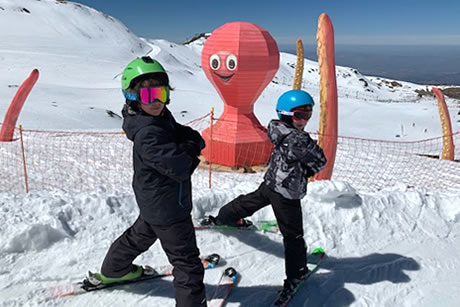 Night skiing and snowboarding
is a wonderful experience that you can enjoy in Sierra Nevada. When night falls, two slopes called Maribel and El Rio are illuminated with 52 lights along 5,8 kms. Happening only on Saturdays and you need to get a special ski pass for this activitiy.
At the
Snowpark Sulayr
, Loma de Dilar area, you will find a special track full of bumps, obstacles, speed jumps and excitement. You can access it with the ski pass.
And if you feel like
exploring Sierra Nevada National Park
, book a
Snowshoe Hike in Sierra Nevada
guided tour that will take you on a snow-shoe hiking to the most beautiful areas.
Sierra Nevada for Families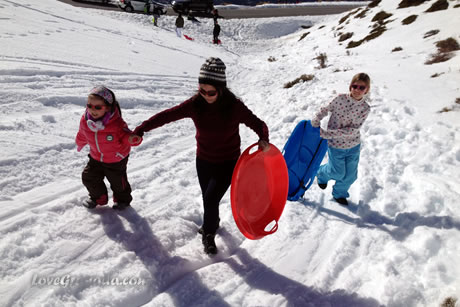 If you want to have fun in Sierra Nevada without skiing, you should know that there are a lot of activities for children and families in the snow.
Have a look at the
Mirlo Blanco
area, at Pradollano village, where there are fun activities for children, and you will not need to buy a ski pass to access it.
And if you prefer to get closer to the ski slopes, get a ski pass for non-skiers and explore the
Borreguiles fun area
, where children can ride snowmobiles or slide down the special slopes for
sledges
and rubber rings.
Price:
10 euros for 1/2 hour.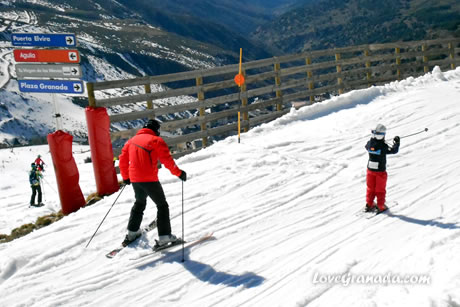 Although, if you really want to spend the day playing in the snow and sledging down the hill, you should visit the
Hoya de la Mora area
.
This is the highest part of the ski resort. Located at 2.500m of altitude the views are stunning, and it's free!
Sierra Nevada for Groups
Some of the activities taking place in Sierra Nevada are only for groups. These include the night routes on snow grooming machines and the stargazing guided tours.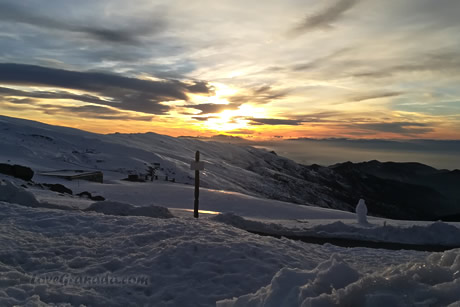 Sierra Nevada has one of the best night skies in Europe for
stargazing
.
Thanks to the professional guiadance of the astronomers in charge of the activity, you will be able to watch the main stars and planets of the winter sky. Minimum 10 people. Duration: 1h 30 mins.
The
night routes on snow grooming machines
are organized for groups of 10-12 people.
You will reach the mount Veleta at 3.398m just on time for the sunset. Here you will enjoy one of the most stunning views in Spain:
Granada
and the
Tropical Coast
lay beneath.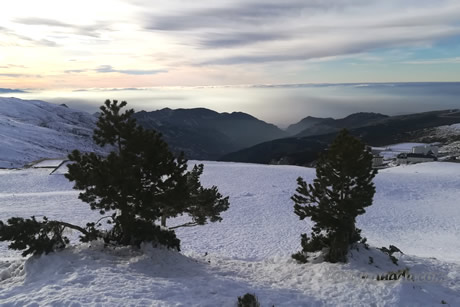 After having a snack under the stars the group makes its way down. This activity lasts for 2 hours aprox.
Excursions take place only on Fridays and Saturdays.
Booking required: agencia@sierranevadaclub.es.
For more information about this or any other group activities contact: 958 708 090.
Sierra Nevada from Above
If you are looking for thrills you should try a
tandem paragliding flight
over Sierra Nevada. These flights are carried out by professional pilots who will guide you through the hisghest mountains of Spain, if weather allows.
☞
If you want to enjoy a
special day in the Alhambra
, you can
reserve a guided tour
:
☆
Alhambra Guided Tour
: discover the wonders of the Alhambra with this tour that
includes everything
: the Nasrid Palaces, the Generalife, the Alcazaba, etc.
☆
Albaicin and Sacromonte Guided Tour
: discover this
old arab quarter
of Granada with this
guided tour
.
And Sierra Nevada never sleeps! At night, the atmosphere is impressive in
tapas bars,
restaurants and pubs. Check them up here.
During the summer there are great activities too! When the snow melts, wildlife awakes. Find out
what to do in Sierra Nevada
when the ski season is over.
You Might Also Be Interested In
Page Updated: Oct 31, 2021
©
Copyright
• LoveGranada.com • Any use of the content, including copying of it in whole or in part is prohibited.