Sledging in Sierra Nevada - Rental Prices, Best Areas and How to Get There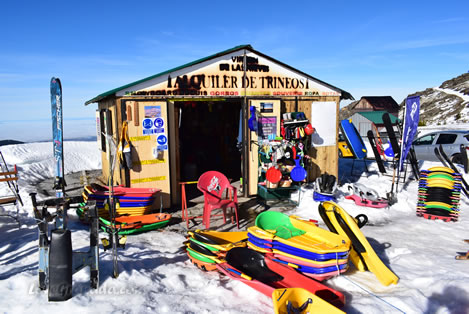 One of the most popular snow activities for non-skiers in
Sierra Nevada
is sledging. Every weekend thousands of people drive to the National Park snowed mountains to spend the day sledging and have fun with friends and family.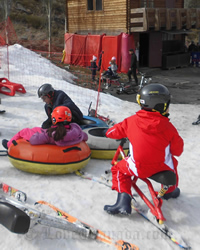 ☞
If you want to
enjoy a special visit
these guided tours offer unique opportunity to discover Granada.
☆
Alhambra + Albaicín + Sacromonte Tour
: a
combination of the complete tour
of the Alhambra (Palaces, Alcazaba, Generalife) + the Albaicín + the Sacromonte.
☆
Albaicin and Sacromonte Guided Tour
: discover this
old arab quarter
of Granada with this
guided tour
.
Where to Rent and Buy Sleds - Rates for Year 2022/23
Where to Rent Sleds in Sierra Nevada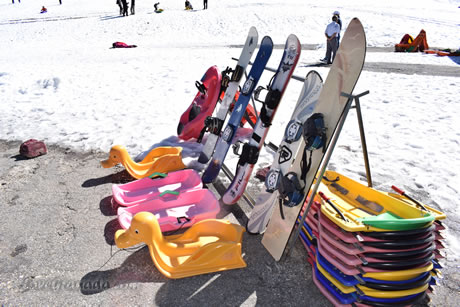 There are some shops where you can rent sleds in Pradollano, the center of the ski resort.
However, you can also find some sleds rental shops just next to the sledging area in Hoya de la Mora, the top area of the ski resort.
At Hoya de la Mora's shops it costs
8 euros
per hour and
12 euros
per 2 hours.
Usually, you will be asked to leave some type of ID as a collateral for the duration of the rental.
Renting Sleds in Granada Cheaper
In Granada city and nearby you can find
rental shops
where sleds can be rented for 10 euros/day. It's much cheaper than renting sleds in Sierra Nevada (8 euros/hour).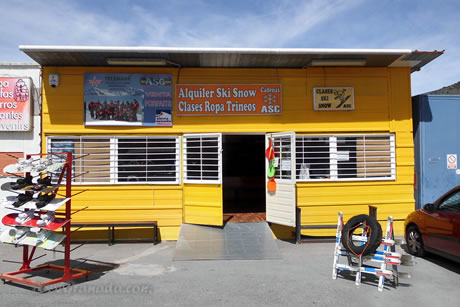 La Vereda shop rents sleds for one person (90 centimeters long) for 10 euros a day. This shop is located in Güejar Sierra, 19 km away from Sierra Nevada (34 mins drive).
The small road GR3200 connects this small village with Sierra Nevada.
La Vereda: Calle Eras Bajas, 8, 18160 Güejar Sierra, Granada. Tel: +34 649 10 17 22.
If you only want to rent a sled for an hour, it might be easier to do it by the sledging area. However, if you are going to stay longer, it is worthy to rent it in Granada.
☞
If you want to enjoy a
special day in the Alhambra
, you can
reserve a guided tour
:
☆
Alhambra Guided Tour
: discover the wonders of the Alhambra with this tour that
includes everything
: the Nasrid Palaces, the Generalife, the Alcazaba, etc.
☆
Albaicin and Sacromonte Guided Tour
: discover this
old arab quarter
of Granada with this
guided tour
.
Where to Buy Sleds in Granada
If you are planning to go to Sierra Nevada for few days, it could be a good idea to buy a sled.
You can buy sleds in Granada from only 2,50 euros (very small basic) at Decathlon. The longest double sled they sell costs around 30 euros and it's about 1 metre long.
These are still shorter than the sleds you can rent in Sierra Nevada.
Decathlon is located in the north of Granada, motorway A44, exit 123.
Address: Luis Buñuel Road, nº 6 Alameda comercial centre. Tel: +34 958 539 890.
Where to Find Sledging Areas in Sierra Nevada
Borreguiles Area
There is a special area only for sleds near the skiing slopes in Borreguiles. It has a length of
600 meters
and costs 10 euros for half an hour.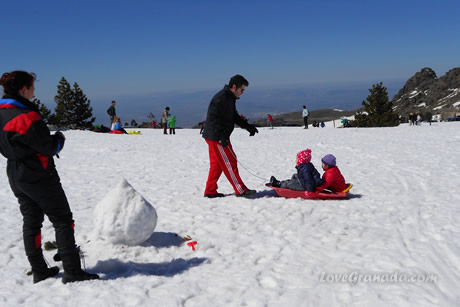 This track is located at
2,600 meters
above sea level, and it can only be reached by a ski lift.
A non-skier ticket costs
16.90 euros
for adults and
9.20 euros
for children ( 6-12 years). It might be too expensive for a sled ride.
However, if you have already bought the ski pass, spending some time in the sledging area could be a lot of fun.
On the other hand, sometimes there is a special offer: 1 ski lift return ticket + 1/2 hour at the sledging slope + lunch (a sandwich or burguer + french fries + ice cream + a soft drink) for 24'70 euros. Please ask.
Pradollano Area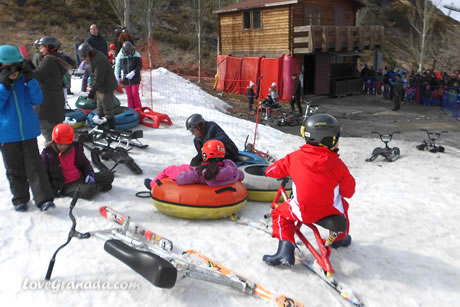 Pradollano village is right at the center of the ski resort. In this popular area located at the foot of the skiing slopes, a new sledging area has recently been open.
It is located next to the fun area called Mirlo Blanco, and it costs the same than the sledging slope in Borreguiles: 10 euros for half an hour.
You don't need a ski lift to access this area.
Hoya de la Mora Area
You can go sledging for free in the area called Hoya de la Mora at
2,500 meters
above sea level.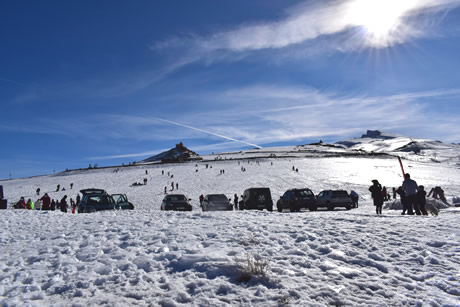 Not surprisingly, this is the most popular area for local families to enjoy sledging. It is a large open area above the ski resort that can normally be reached by car, although sometimes it gets very busy and cars are not allowed to avoid overcrowding.
For this reason, it is advisable to arrive early so you can park properly. Otherwise, you can park in the public parking
Los Peñones
and walk from there, but it is a long way (about 2 kilometers).
Hoya de la Mora is also the starting point for great hiking routes all year round, and its Albergue Universitario (hostel) is a perfect place to stay for nature lovers.
Russian Sled Ride in Sierra Nevada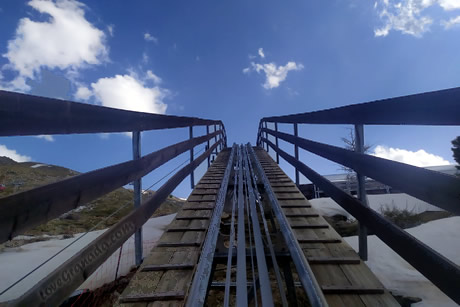 The Russian Sledge is a kind of roller-coaster, which has a drop of
550 meters
.
A sled can accommodate up to
2 people
. The 'driver' can regulate the speed and the sled can reach up to
40 km/hour
.
Children under 4 years are not allowed. Children over 8 years old can ride the sled without an adult.
One ride costs
5 euros per person
. Children have no discount.
The Russian Sled is located in the Fun Area
Mirlo Blanco
.
You Might Also Be Interested In
Page Updated: Oct 31, 2021
©
Copyright
• LoveGranada.com • Any use of the content, including copying of it in whole or in part is prohibited.