Corral del Carbon in Granada - the Oldest Monument Left by the Arabs
What is Corral del Carbon?
Located in Calle Mariana Pineda, in the heart of Granada, Corral del Carbon is the oldest monument left us by the Arabs.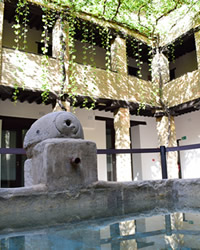 It was was built in the fourteenth century by Yusuf I and was Coal yard, warehousing of goods and shelter of merchants. Later in the sixteenth century, Christians adapted it for stage performances.
The construction consists of an entrance pavilion and an inner body with a courtyard surrounded by galleries and craft rooms.
The center square is occupied by a pile of stone with side pipes. The front of the Corral del Carbon has a large pointed arch.
Now houses a tourist information office and the bookstore.
Opening Hours of Corral del Carbon
Monday to Sunday from 9:00 to 19:00.
Entrance
The entrance to the Corral del Carbon is free.
Contact Details and How to Get There
Address:
Corral del Carbon, Granada, CP 18009(behind City Hall).
Phone:
958 57 51 31.
How to Get There:
You can reach the Corral del Carbon taking routes 4, 8, 11, 21, 33 (the bus stop is 'Gran Via 1' or Cathedral), routes C31, C32, C34 (the bus stop is 'Plaza Isabel Catolica').
©
Copyright
•
LoveGranada.com • The reproduction of the whole content or parts of it is prohibited
Personal data
protection policy
.
Information Related to the Corral del Carbon in Granada