Rent Ski Equipment Cheaper in Granada - How to Save on Ski Rental
It's cheaper if you
hire your ski equipment
before going to
Sierra Nevada
. If you have time and do not mind stopping in Granada along the way, you can save money.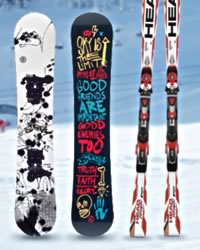 There are several
shops in the city of Granada
and the surrounding villages, where you can buy or rent your ski equipment. Here we compare the rental prices of some of them:
The Vereda
Granada Esquia
Ski Snow ASC
La Vereda Ski Shop and Rental
The ski rental shop La Vereda offers rentals of all kinds of ski equipment, snowboards and mountain bikes.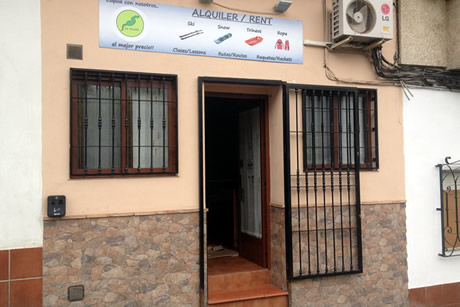 Also, you can hire one or two-person sleds.
In addition, you can buy or rent ski clothes: jackets, pants, gloves and helmets, or take
ski lessons
at affordable prices.
Ski Equipment Rental Prices
La Vereda may have the lowest ski rental rates of Granada. They offer
ski equipment
hire for 15 euros for adults and 10 euros for children.
A drawback that it is located in Guejar Sierra, about 9 km from Sierra Nevada road (El Dornajo Visitor Centre).
Sleds
can be rented for 10 €/day. In Sierra Nevada renting a sled will cost you 8-10 €/hour.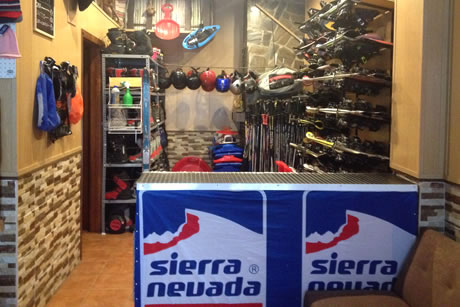 A
jacket
rental costs 10 euros,
trousers
8 euros,
boots
6 euros,
gloves
and
helmet
6 euros a day. Also, you can rent
shoes
for 12 euros/day.
Smaller snowboards
, 130cm and 140cm long, that are used for children are 10 euros a day, 17 euros for 2 days.
How to Get There
It is located in a village called Guejar Sierra, 16 km from Granada, but from this beautiful village there is a direct scenic road to Sierra Nevada (to the Dornajo Center), so you would not need to go back to Granada.
Contact Details
Address:
Eras Bajas 8 street, Guejar Sierra, 18160.
Telephone:
649 101 722.
Email:
la-vereda@la-vereda.com.
Ski Snow ASC (Cenes Service Area)
It has a very good location, next to the Sierra Nevada road, so you can just stop on the way to the ski resort.
Hiring skis or a snowboard here works out cheaper than at the ski resort. They also have a repair shop and a pick-up and drop-off service for groups.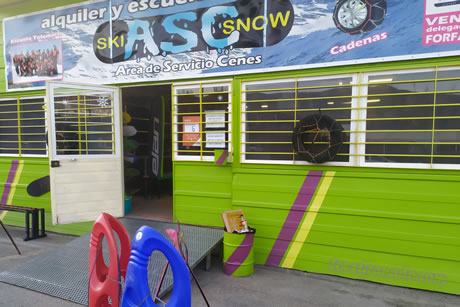 Normally, you can buy the ski pass here at no extra charge, but in 2021 this service is not available.
When renting equipment you are asked to leave some ID as a deposit.
Ski rental prices in Ski Snow ASC
Mid-range equipment for 15 euros/day, children's equipment 13 euros/day. You can also rent clothes: jacket, pants or boots 9 euros/day, helmet 7 euros, glasses or gloves 4 euros.
30 euros for a full set of equipment, which includes jacket, pants, boots, snowboard or skis, gloves, helmet and glasses.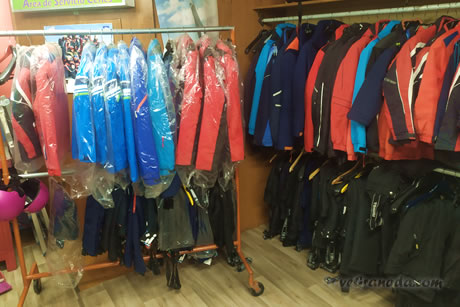 You can also rent a sled for 15 euros/day.
If you are planing to use the sled for more than an hour, it's worth renting it here. If you will use it for only one hour o less, you can rent it cheaper directly
in the Hoya de la Mora
in Sierra Nevada.
Opening Hours
Open every day from 07:30. Outside business hours, you can return the material at the gas station until 23:00.
It is not always open, so it is advisable to call before picking up the material. But they do not speak English, so you can just ask 'abierto?'
Contact details and how to get there
It is located next to the service area of the Galp gas station, about 10 meters from the Cenes Equestrian Center. You can park in front of the store, there is plenty of space for cars.
Address:
Camino del Río Genil, s/n, 18190 Cenes de la Vega, Granada.
Telephone:
656 982 296.
Ski Rental Shop - Granada Esquia
The store Granada Esquia has facilities of over 100 meters. It offers ski equipment hire of medium to high range and it is renewed annually. You can also rent the sleds.
Ski Equipment Rental Prices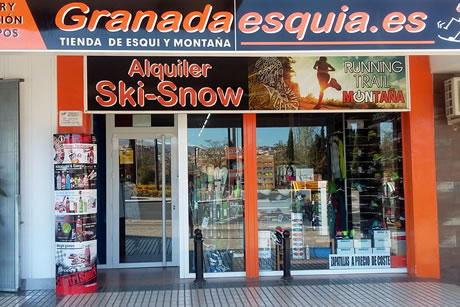 Ski equipment hire in Granada Esquia is cheaper than
renting in Sierra Nevada
.
The equipment that includes skis, boots and poles cost
16 euros
a day for adults and
14 euros
for children, and if you rent online it will costs you only
10 euros
,
14 euros
snowboard and
12 euros
boots, jacket or pants
9 euros
, helmet
4 euros
.
Opening Hours
The shop is open from 07:30 h to 12:00 h and from 16:30 h to 20:30 h.
Contact Details
Address:
Paseo Emperador Carlos V 4 Bajo, near Granada football stadium.
Telephone:
691 224 793.
Email:
info@granadaesquia.es.
How to Get There
You can get to the Granada Esquia rental shop by
city bus
routes 7, 10 and C or by car, the shop has a parking.
Page Updated: January 09, 2021
©
Copyright
• LoveGranada.com • The reproduction of the whole content or parts of it is prohibited
Personal data
protection policy
.
Opinions about Ski Hire in Sierra Nevada
No reviews yet.

Please send your suggestions and thoughts. Your opinion will be of great help to other visitors.