Prices for Granada Bus Tickets and Travel Cards and How to Save on Bus Fares
An ordinary bus ticket costs 1.40 euros. If you buy a travel card (Credibus) the bus trip would cost you between 0,83 and 0,87 euros, the price of the trip and travel money you'll receive on your travel card will depend on the type of card you buy (5, 10 or 20 euros).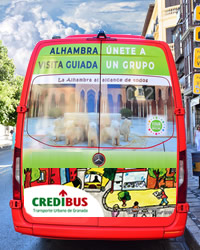 One month travel card costs 41 euros (unlimited trips for 30 days) and can only be used by one person. If you are staying in Granada for few dasys, it is not worth buying it.
Tickets Prices, Granada City Buses, Year 2021
Type of Ticket / Travel Card
Trip
Travel Card (top up 5 €, 5 trips)
0,87 €
Travel Card (top up 10 €, 11 trips)
0,85 €
Travel Card (top up 20 €, 24 trips)
0,83 €
Monthly Travel Card 41 € (unlim. 30 days)
0,00 €
Changing Bus (60 minutes)
0,00 €
For Residents in Granada
Trip
Travel Card for Disabled *
0 or 0,57 €
Senior Travel Card *
0,00 €
If you are planning to travel more than 3 times it is worthy to buy a travel card. Otherwise it is better to buy 3 ordinary tickets because the money left on travel card are not given back.
Travel Card (Credibus) for Granada City Buses
What is CrediBus?
This is a travel card or bus pass allowing travel on
Granada city buses
.
The Cost of a Trip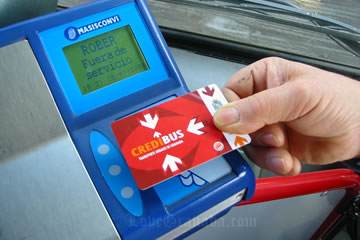 A city bus trip costs
87 cents
if you buy 5 euros travel card,
85 cents
with 10 euros travel card, and
83 cents
with 20 euros travel card. A monthly travel card costs
41 euros
and with unlimited travel over 30 days.
With a CrediBus you are entitled to make free transfers to other urban buses within 60 minutes of first boarding.
Where to Buy or Rechage my Travel Card?
You can buy bus tickets and buy/recharge 5, 10, 20 euros travel cards from the bus driver or by paying at
ticket vending machines
that are located at some of the city bus stops.
Deposit
A 2-euro deposit is payable when buying a CrediBus pass. The deposit is refunded if the traveller returns the pass in good condition at the original point of sale (any city bus driver).
How to Use Travel Card
The passenger passes the travel card over the reader on boarding the bus, at which a green light will show accompanied by two beeps, so deducting the fare.
University Card - Fair and Where to Apply (only for residents)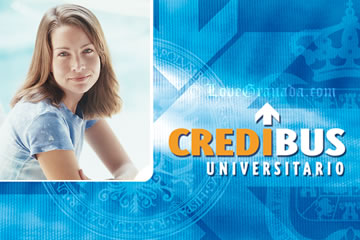 If you are only visiting Granada, you cannot buy this card. It is an
essential requirement to be a registered Granada university student
. And only young persons up to 25 years of age.
The price of the University Travel Card is 5 euros. One trip costs 0.61 euros. 2-euro deposit is required.
One free transfer to other buses providing less than 60 minutes have elapsed since first boarding.
You can apply for the University Pass at the Granada university; ask the Secretary of your faculty.
Youth Card - Where to Apply and Requirements (only for residents)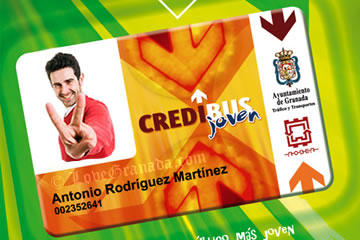 The Youth Pass (Bono Joven) is similar to the university card. It is an
essential requirement to be registered in the capital of Granada
.
People who visit Granada and are not resident cannot apply for this card.
Only for young persons between 6 and 26 years of age.
With Youth Pass one trip costs 0.61 euros. With a Youth Pass, free transfers can be made to other buses providing less than 60 minutes have elapsed since first boarding.
Apply at Information Centre for Youth (Centro de Informacion Joven). You must bring your DNI and a passport-size photo. Alternatively, via the web www.granajoven.com.
In 25 days you can collect your pass from the Information Centre (Calle Varela 14, Bajo, Granada).
Granada Senior Citizen Travel Pass (only for residents)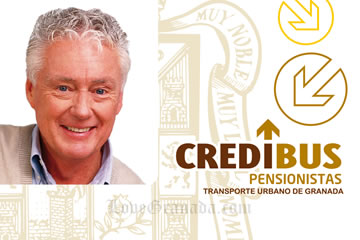 The Senior Citizen Travel Pass allows unlimited free travel on all routes of Granada's urban bus network. Minimum age from 65 years.
It is
only for senior citizens that are residents in Granada
and have low income.
You can apply for this card in person: Municipal Complex "Los Mondragones", Avda de las Fuerzas Armadas 4, Social Welfare Office, Building E, Granada 18014.
You can also download the Application Form at www.granada.org or call the Social Welfare Office, phone number: 958 248 118.
You May Also Be Interested In
Information about
Granada Buses
,
Granada City Buses
,
Granada Bus Station
,
Maps for Bus Routes
,
Urban Bus Schedules
and
Bus Waiting Times
.
We Answer Your Questions
Will the balance be added to future recharge amounts?
Yes, the balance on your travel card be added to future recharge amounts.
Is there some kind of special rate for disabled travellers?
There is no discount or special travel card for disabled travellers on Granada city buses.
Do children under 4 years travel free?
Yes, children up to 4 years of age travel on Granada city buses for free.
I have monthly travel card Can I pass it twice over the card reader if I go with someone else?
No. A monthly Travelcard, which has unlimited travel for 30 days, is for the use of the purchaser only.
Is there some kind of family travel card?
There isn't any family travel card or special pass for children between 4 and 11 years.
Is the Travel Card Only for Use by One Person?
Several people in a group may use the same travel card. A member of the group has to pass the card over the reader once for each person in the group boarding a Granada bus.
Can I get back the remaining credit if I am leaving Granada?
The answer is
no
, if your card still has credit on it, the remaining balance cannot be returned. Only the deposit of 2 euros is returned as long as the card is in good condition.
Can I include my Children in my Monthly Bus Pass?
The monthly travel card can only be used by one person. It cannot be used by several people.
Faulty Travel Cards
I have a Credibus card, accidentally folded it and it no longer works on the buses. How can I recover the money I had on this card?
If a travel card is faulty, the traveller can take the damaged travel card to Customer Service office.
Also you have to bring the new travel card that you can buy on any Granada city bus and pay the deposit of 2 euros.
Usually it can be done the same day.
This office is located in Acera del Darro 30, Los Montes Orientales House, n 18, near Puerta Real/Corte Ingles (centre), open between 08:00 h and 15:00 h Monday to Friday. The bus company is called Transportes Rober.
What should I do in case of theft or loss of my University Bonobus?
You need to apply for a new pass in the Faculty of the University (Dining Building, ground floor, phone 958 246 121). The balance that you had on the Bond University cannot be refunded.
Can I get University Bonobus if I live in the city of Granada?
If you live and are registered in the city of Granada, you have to apply for Bono Joven.
My Bono Joven has expired as I am now 25 years old, but I still have money on it. Can I get the money left on my card back?
The Bono Joven (Youth Pass) cannot be redeemed if you have reached 25 years of age. What you can do is go to one of the customer service offices (Calle Joaquin Costa 4, Bajo, Granada. Phone: 958 220450) to buy a normal travel card and transfer the money left on your Youth Pass.
I have lost my Youth Pass and want to know how I can recover it?
You need to go back to the Area de Juventud del Ayuntamiento to request a duplicate.
I will studying at a collage, not at the university. I'm not registered in Granada. Can I get the Bono Joven?
In this case you cannot have a Youth Pass or University Pass. You can only buy a Credibus travel card.
Page Updated: January 18, 2020
©
Copyright
• LoveGranada.com • The reproduction of the whole content or parts of it is prohibited
Personal data
protection policy
.
Opinions about Bus Fares in Granada
No reviews yet.

Please send your suggestions and thoughts. Your opinion will be of great help to other visitors.