Museum of Alhambra - 312 Items, Valuables and Findings
Alhambra Museum is located in Carlos V Palace. Pitcher of the Gazelles and Lions Stack are the most important pieces of the 312 that has the museum.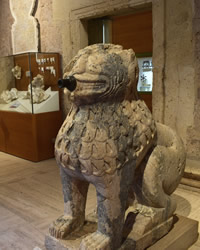 The Museum of Alhambra is distributed in seven rooms that show you the Hispano-Muslim history between the ninth to sixteenth centuries: ceramic, wood, plaster and metals, and a section of Muslim art.
Alhambra Museum Rooms
Room 1
The hall of faith, science and economy, represented by two copies of the Koran, a solar notebook and a collection of coins of different Spanish-Muslim periods.
Room 2
Periods of the emirate and caliphate. The room displays a series of capitals of different stages and a large collection of everyday objects such as lamps, stoves, dishes, jars and bottles.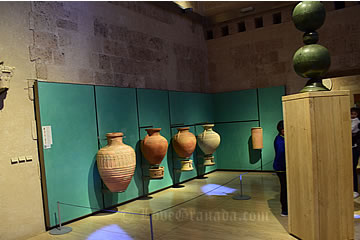 Room 3
Items ranging from the s. X, Caliphate, to the Moorish period. Numerous architectural objects: ceramic vases, batteries, the famous 'Pila de los leones' brought by King Badis from Cordoba, bottles, jars and Yamur ivory, which was located in the church of Santa Ana and anteriomente served as a minaret of the mosque.
Room 4
Architectural items found outside the Alhambra, exception is items from the Fuente de Santa Maria. Exhibits two lions from the Maristan of Albayzín that previously were at El Parta.
Room 5
It exhibits a number of pieces representative of the Alhambra in different materials, columns, fountains, trellises, gates, stone blocks, gorroneras and tiling. In the center stands the Gazelle Vase, ceramic centerpiece of the Nasrid.
Inside a glass case there is a collection of painted pottery with geometric and epigraphic subjects. You can also find a Palacio de los Infantes door, with inlaid decoration.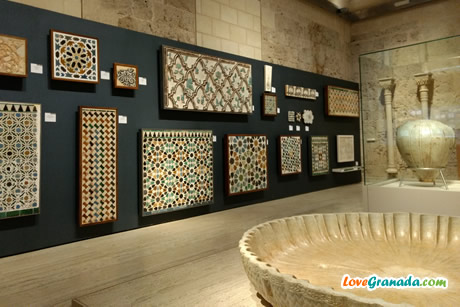 Room 6
Items that come from Alhambra palaces: architectural elements, furniture, gravestones that come from the royal cemetery, the lamp from the mosque of the Alhambra and the hip chair.
Room 7
Items comming from Moorish period: the gorgeous fabrics, called Fortuny vase, ceramic gold, inlaid chess board and pieces, as well as an interesting collection of Nazari toys made in clay, plaster and window lattices.
Alhambra Museum Opening Hours
15th of October - 14th of March:
From Wednesday to Saturday: from 8:30 to 18:00.
Sundays and Tuesdays: 8:30 to 14:30.
Closed Monday.
15th of March - 14th of October:
From Wednesday to Saturday: from 8:30 to 20:00. Sunday and Tuesday: 8:30 to 14:30. Closed Monday.
Night timetable
From May 1st to September 30th the museum also has a night time schedule:
Friday: 21:30 to 23:30.
Saturdays (June 18, 25 and 30): from 9:30 to 23:30.
May 18: from 9:30 to 23:30.
Contact Details and How to Get to the Alhambra Museum
Contact Details of the Alhambra Museum
Address:
Alhambra Museum, Carlos V Palace, in the Alhambra.
Phone:
958 027 900.
How to Get to the Alhambra Museum
In a small red
Alhambra Bus
, route C30 or C32, get off at the bus stop 'Alhambra'.
©
Copyright
•
LoveGranada.com • The reproduction of the whole content or parts of it is prohibited
Personal data
protection policy
.
You Might Also Be Interested In