Flamenco in Granada - Emotional Performances in Albayzin and Sacromonte Caves
If you are interested in flamenco, it is a must to visit one of the Sacromonte's zambras, see a flamenco show in the Albaicin, or enjoy a meal and a real live flamenco show in one of the flamenco restaurants in Granada.
The Zambra, word comes from Arabic, was the way to celebrate the rite among the Gypsies and was banned across different eras. They would last all night.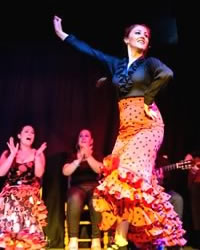 A
good way to get to know Granada
and its history is
by taking a tour
. There are several interesting
free and private
tours offered by Civitatis:
Free Tour of Granada
: What better way to get to know the hisotric centre of Granada than on a
free walking tour
with a local expert guide?!
Private Tour of Granada
: Discover the hidden treasures and secrets of Granada
exclusively just for you
and your partner, friends, or family.
Flamenco consists of singing, playing and dancing, developed in Andalusia and is influenced by a mixture of various cultures: Arab, Jewish and Christian.
It would be cheaper if you go to a flamenco show in Granada on your own or you can book via our website, we do not charge any commission. If a booking is made through a hotel, for example, the entry is much more expensive.
Price: 15 euros
The show represents the purest flamenco art and includes guitar, dancing, singing, poetry and music for 1 hour of unforgettable spectacle.
Price: 26 euros
Cueva Los Tarantos offers singing, dancing and guitar playing in the famous Sacromonte, and is a very popular in Granada.
Price: 26 euros
Venta del Gallo offers flamenco shows and flamenco shows with dinner in Sacromonte, the birthplace of the art of flamenco.
Price: 18 euros
Jardines de Zoraya is a tablao flamenco and a restaurant. During the summer the flamenco shows are held in the exterior garden.
Flamenco is composed of singing, guitar playing and dancing, developed in Andalusia and is influenced by the mix of various cultures: Arab, Jewish and Christian.
The Granada flamenco shows start at 21:00 pm and can last until 12:00. In some places offer dinner and show, in others only the show. In most, a drink and the show cost around twenty euros.
Would you like to learn Flamenco?
Flamenco Classes For Tourist Groups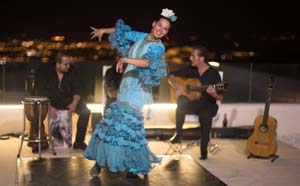 In this 1 hour class you will learn some basic Flamenco technique including palmas (clapping), how to move the arms and some steps, followed by a short choreography.
Classes are taught in English in a central professional dance studio 5 minutes away from Plaza Nueva and are available on weekday mornings.
The class is 10 euros per person with a minimum of 5 people in the group.
For more information email Natalie on: flamencofortouristsgranada@yahoo.com or call on: (+34) 617 034 048.
You Might Also Be Interested In
Page Updated: Feb 27, 2020
©
Copyright
• LoveGranada.com • The reproduction of the whole content or parts of it is prohibited
Personal data
protection policy
.
Opinions about Flamenco Shows in Granada
Cuevas Los Tarantos
I took a group of about 50 to Granada. We stayed in a lovely hotel - The AC Palacio de Santa Paula. We loved your city and plan on retu
ing. I normally do not complain but I felt that I should share with you a very unfortunate experience that we had. We went to Cuevas Los Tarantos, Cuevas for a Flameno dance and dinner. It was the worst event of the entire 10 day trip through Spain and Portugal.