Granada Bus Routes - Bus Stops, Timetables and Maps of Each Route
In Granada there are 27 bus routes that run seven days a week from 6:00 am until 12:00 pm, including Sundays and holidays.
There are also 2 circular routes (111 and 121) that offer a night service from 12:00 pm to 6:00 am.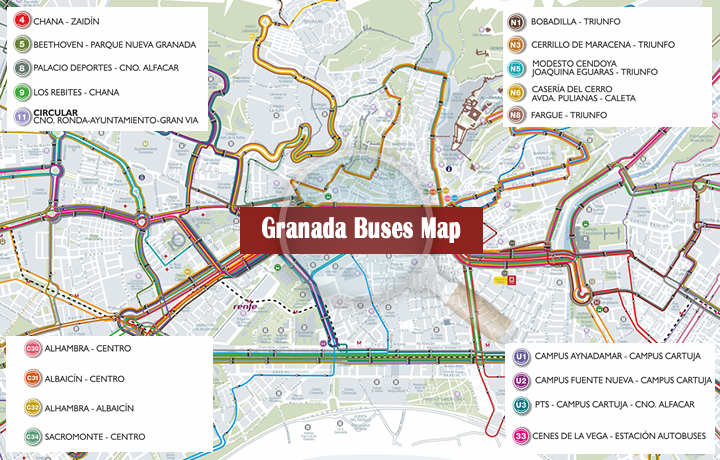 Here you can see the maps of the bus routes, these maps are placed at all Granada bus stops.
Granada bus maps have all the information on bus routes,
parkings
,
taxi stops
and
monuments
.
Individual Bus Routes, Year 2018
Click on the iamges to open the maps and find the best route to your destination.
Bus timetables
change often, so it's best to call free on 900 710 900 from 7:00 to 24:00 h. Unfortunately they speak only Spanish. There you can also get information about
Granada buses
, best possible routes, lost and found, arrival times and
bus fares
.
©
Copyright
•
LoveGranada.com • The reproduction of the whole content or parts of it is prohibited
Personal data
protection policy
.
Information Related to the Granada Bus Map