Bus Granada - Airport Granada Jaen - Granada - Timetables and Fares
The company that operates Granada Airport bus route is Alsa, route 245. The destination is listed in front and on the side of the bus.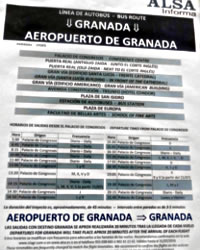 At the bus stop and on the bus windscreen is written, 'Granada - Airport'.
Bus Stops Granada - Airport
Approximate Time Between Stops
For example, if the bus leaves Plaza Rotary at 5:20, it arrives at the stop Acera del Darro at 5:22 h, building Santa Lucia at 5:25 h, building Americano at 5:28 h, Triunfo square 5:30 h, San Izidro Square at 5:33 h, Granada Bus Station at 5:35 h, Europa Square at 5:37 h, Avda Andalucia at 5:40 h, Santa Fe at 5:50h and Granada Airport at 6:05 h.
Bus Timetables: Granada -> Granada Airport
Alsa (the company that offers this service) makes frequent changes in schedules, not to miss your flight, it is also
highly recommended to check bus timetables
on www.alsa.es a day before your flight.
Bus Timetable: Airport -> Granada
The Granada Airport Bus departs for Granada city centre after the arrival of each flight.
If there is any delay, for example you lost our luggage and have to report it, etc. you might miss the bus and have to wait up to two hours to take another one.
Ticket Price
The fare is 2,90 euros from the Airport to Granada city centre.
Where to buy airport bus tickets: the ticket is purchased directly on the bus, there is no need to book
The Journey Time
The journey from the first stop, Palacio de Congresos, to Granada Airport is about 45 minutes.
Airport Buses Contact Details and Timetables
Company: Alsa
Phone: +34 902 422 242
Taxi from the Airport to Granada
Also you can take a taxi from the airport to Granada, the price is approximately 25-30 euros from Monday to Friday, and 30-35 euros from 22:00 to 7:00 weekends and holidays.
We Answer Your Questions
What is the nearest bus stop to Granada Train Station?
You have to take the bus from Granada Airport to Granada city centre and get off at La Caleta.
La Caleta is only a 2-minute walk to the
Granada Train Station
.
How long does it take from the first bus stop to the Triunfo Gardens?
From the first bus stop (Conference Hall) to Triunfo Gardens takes about 10-15 minutes, from the Triunfo Gardens to Granada Airport takes about 30 minutes.
Information Related to the Granada Airport Buses
Opinions about Granada Airport Buses
Great inexpensive bus
Great to have an easy, inexpensive bus from the centre of town to the airport! (Jenny)
No luggage, no bus, ripped off by taxi driver
We thought this was a regular bus service, as in - it left on the hour every hour etc.
We arrived at Granada airport in the early evening, discovered Iberia had lost our luggage, waited for at least 15 minutes after the luggage carousel stopped turning until someone opened up a desk to enable us to report lost baggage.
Then discovered the bus had left and there would not be another one until the next scheduled flight which was almost two hours away.
Thinking the bus was a shuttle service we had arranged to meet our holiday landlord at a specific time in central Granada.
Ended up taking a taxi whose driver had seen the opportunity and had upped the fare from 25 to 30 Euros excusing it as a holiday fare. It was the day before Reyes Magi.
Consequently visit to Granada did not start well. No luggage - no bus, ripped off by taxi driver (Maggie).
Have you travelled in Granada airport buses? Please, share your experience