Flamenco in Granada - Shows in Albayzin and Sacromonte Caves
If you are interested in flamenco, it is a must to visit one of the Sacromonte's zambras, see a flamenco show in the Albaicin, or enjoy a meal and a real live flamenco show in one of the flamenco restaurants in Granada.
The Zambra, word comes from Arabic, was the way to celebrate the rite among the Gypsies and was banned across different eras. They would last all night.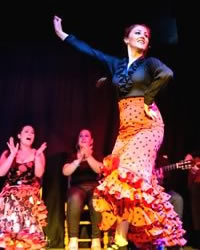 Flamenco consists of singing, playing and dancing, developed in Andalusia and is influenced by a mixture of various cultures: Arab, Jewish and Christian.
It would be cheaper if you go to a flamenco show in Granada on your own or you can book via our website, we do not charge any commission. If a booking is made through a hotel, for example, the entry is much more expensive.
A flamenco show in Granada based on the book 'Made in Paris', in the famous Albaycin quarter. Entry ticket is only 15 euros.
The show represents the purest flamenco art and includes guitar, dancing, singing, poetry and music for 1 hour of unforgettable spectacle.
Jardines de Zoraya is a tablao flamenco and a restaurant. During the summer the flamenco shows are held in the exterior garden.
All aspects of this restaurant have been carefully chosen to offer good quality service and unforgettable flamenco experience.
Venta del Gallo offers flamenco shows and flamenco shows with dinner in Sacromonte, the birthplace of the art of flamenco.
The show includes singing, dancing and flamenco music. After the show you can take a guided tour of the Sacromonte and Albaicin.
Cueva Los Tarantos offers singing, dancing and guitar playing in the famous Sacromonte, and is a very popular in Granada.
It also offers dinner, typical dishes of Granada, transportation and guided tours of the Albayzin. The flamenco show includes a drink.
Flamenco is composed of singing, guitar playing and dancing, developed in Andalusia and is influenced by the mix of various cultures: Arab, Jewish and Christian.
The Granada flamenco shows start at 21:00 pm and can last until 12:00. In some places offer dinner and show, in others only the show. In most, a drink and the show cost around twenty euros.
©
Copyright
•
LoveGranada.com • The reproduction of the whole content or parts of it is prohibited
Opinions about Flamenco in Granada
Cuevas Los Tarantos
I took a group of about 50 to Granada. We stayed in a lovely hotel - The AC Palacio de Santa Paula. We loved your city and plan on returning. I normally do not complain but I felt that I should share with you a very unfortunate experience that we had. We went to Cuevas Los Tarantos, Cuevas for a Flameno dance and dinner. It was the worst event of the entire 10 day trip through Spain and Portugal.
Would you like to leave a comment about flamenco shows in Granada?