Pubs in Granada, Granada Nightlife - Where to Go Out at Night
Like any good college town, the Granada's nightlife is pretty funky and lively and is split between several zones.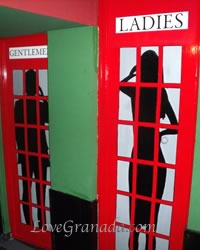 ☞
If you want to
enjoy a special visit
these guided tours offer unique opportunity to discover Granada.
☆
Alhambra + Albaicín + Sacromonte Tour
: a
combination of the complete tour
of the Alhambra (Palaces, Alcazaba, Generalife) + the Albaicín + the Sacromonte.
☆
Albaicin and Sacromonte Guided Tour
: discover this
old arab quarter
of Granada with this
guided tour
.
Pubs in Plaza Nueva
In Plaza Nueva, one of the busiest areas in summer, several pubs can be recommend: The Eshavira (Postigo de la Cuna, 4) slightly hidden, with good jazz and flamenco performances, La Estrella (Plaza de Cuchilleros, 6) visited by many young people.
La Galeria (Cárcel Alta, 7) where predominates Spanish pop, Gustav Klimt (Imprenta, 3) has two floors, high ceilings and with plenty of room to sit.
A very nice place, although not cheap, ideal for relaxing and were you can also have a good cap of coffee, is the Pilar del Toro. Located in a beautiful rustic courtyard and is also a typical restaurant. It was founded in 1789 where you can listen to all kinds of music.
Paseo de los Tristes
Paseo de los Tristes is located near Plaza Nueva, with many bars and pubs.
In this area you can find pubs such as El Rincon de San Pedro (Carrera del Darro, 12) where you can find new music trends.
El Huerto del Loro (Cuesta de la Churra, behind the Church of St. Anne) a nice and original place with a lovely terrace.
Plaza Isabel La Catolica
In the Plaza Isabel La Catolica (where the statue of Columbus stands) is El Granero (Plaza Poeta Luis Rosales s/n) that offers house music, although sometimes it can be a little crowded, and down the street San Matias, precisely at no. 25, is the Pub Jade where Erasmus parties are held every Thursday.
At the end of San Matias Street is located Ganivet Pub (Ganivet 13) where every Wednesday is themed night.
Pubs in Plaza de Torros
Irish Pub Morlaco's offers an extensive list of international beers, with more than 60 brands, and draft beers: Cruzcampo, Guinness and Murphy's.
It is a typical Irish bar (decorated entirety by hand), with a fireplace in winter, where you can watch football games on 3 TV screens. Special selection of Celtic music, Irish folk, rock and 80s.
There are special offers: mug of Cruzcampo is 2 euros, special prices for students.
Address: Calle Doctor Marañon, 6 (opposite Plaza de Toros), Tel: 958 092 828
Pubs by Pedro Antonio de Alarcon
Pedro Antonio de Alarcon is the preferred area for students.
Here you can find pubs for all tastes, from quiet places where you can still talk, to the more noisy and boisterous.
A few locations are: Babel (Pedro Antonio de Alarcon, 54) with good Spanish music; Peaton (Socrates, 25), La Percha (Trajano, 1) o Escandalo (Socrates, 4-5).
After Hours Pubs in Granada
Granada 10 (en Carcel Baja 13), located in an old cinema and next to Carrefour, macro nightclub, known as La Industrial Copera, although undoubtedly the most fashionable nightclub is Mae West, located in the shopping centre Neptuno, and in the centre of Granada is another disco Sala Aliatar (Recogidas, 2).
In Realejo, in Campo del Principe, the club Discoteca Sala Principe, in what was formerly the Corral del Principe, and Sala Quilombo (Carril de San Cecilio, 25).
You Might Also Be Interested In
©
Copyright
• LoveGranada.com • Any use of the content, including copying of it in whole or in part is prohibited.