Almuñécar Urban Buses, Bus Station and How to Reach Almuñecar from Granada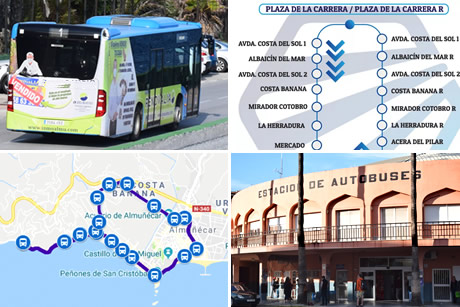 Here you can find useful information about the
connections between Almuñecar and Granada
, the
Almuñécar Bus Station
services and the
Almuñécar urban buses
.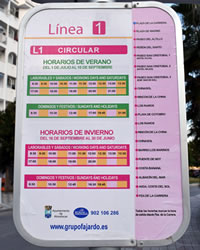 In Almuñécar there are
5 city bus routes
: 1 circular route conecting the neighborhoods with the urban center and 4 bus routes that connect city centre with
Velilla beach
, Marina del Este port and la Herradura.
Buses Between Almuñécar and Granada
The
buses of Alsa
company (telephone 902 422 242) travel
nine times a day
between Granada (departure from the
Granada Bus Station
) and Almuñécar (Almuñecar Bus Station), between 7:00 and 20:00.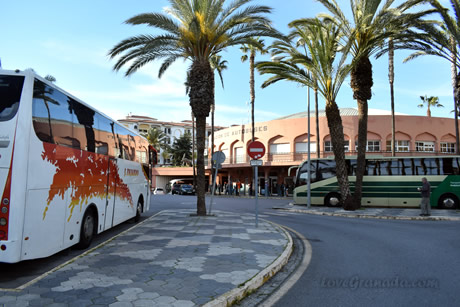 Also, there are
regular bus services
from Nerja, La Herradura, Torre del Mar and
Salobreña
.
The cheapest ticket from Granada to Almuñecar
costs 3.35 euros
and the journey takes
between 1h 15m and two hours
.
The most common
price is 6-8 euros
, to buy a 3.35 euro ticket you have to book about three months in advance.
Please pay attention to the
duration of the trip
when choosing a ticket, as some buses do not have direct routes, they stop in the villages Armilla, Alhendín, Cázulas, Lentegí, Otívar and Jete, that's why it takes longer.
The fastest bus
from Granada to Almuñécar
leaves from the Granada Bus Station and
makes two or three stops
before arriving at the Almuñécar Bus Station: in Salobreña (55 minutes), La Caleta next to Salobreña (1 hour) and Taramay (1 h and 05 m, does not always stop here).
Tickets can be purchased
on the Alsa website, alsa.es.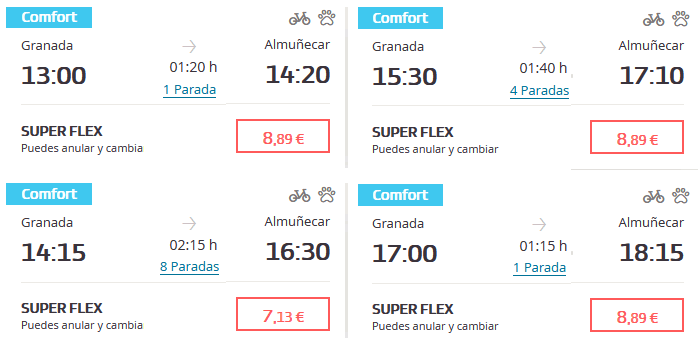 Almuñécar Urban Buses
The bus company that run this service is Grupo Fajardo. There are
5 urban bus routes
in
Almuñécar
. The bus schedules vary according to the season of the year.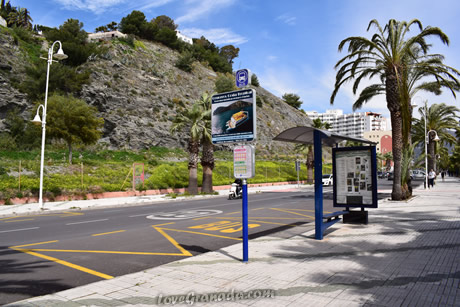 In winter,
from September 16 to June 31
, there is little frequency. From
July 1 and until September 15
, when there is more demand, buses run more frequently.
The
ticket costs 1 euro
for each trip. If you get off of your original bus and get onto another bus route, it's another trip, there are
no free transfers
like in Granada. Pay the fare directly in cash to the driver.
There are
two routes with number 2
, one to La Herradura and another to Marina del Este.
Route 1 - Circular
Outbound: Almuñécar Centre - Cotobro. Inbound: Carrera de la Concepción - Avda. Costa del Sol.
Route 2
From Almuñécar to Marina del Este by La Herradura
Route 2
From Almuñécar to La Herradura by Marina del Este
Route 3
From Almuñecar Bus Station to Velilla Beach
Route 5
Carrera Square - Torrecuevas
Almuñécar Bus Station
The
Almuñécar bus station
is located at the entrance to the town, about 500 meters from the city center, in the Terrazas del Mar building. It is circular shaped orange building with 'Estacion de Autobuses' written on it.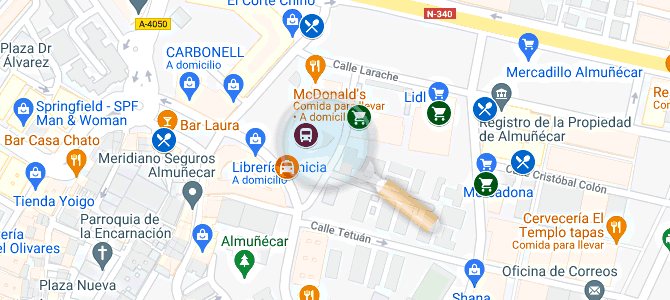 Almuñécar Bus Station Facilities and Services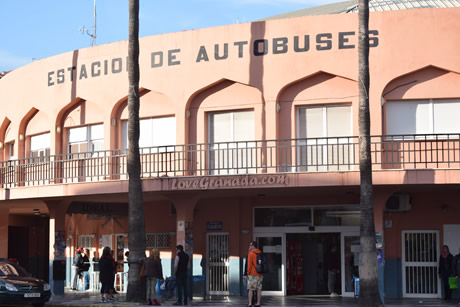 It is a small station and has basic facilities: press kiosk, toilets and ticket machines.
There is
no bar or cafeteria
inside the station but there are several establishments in the vicinity where you can buy snacks.
The supermarkets Dia, Lidl and Mercadona across the street, several local bars and restaurants and the McDonalds next to the station.
Where to Buy Bus Tickets?
You can purchase tickets from the ticket windows or the automatic vending machines located at the Almuñécar Bus Station.
Bus Station Contact Details
Address:
Avda. Juan Carlos 1, Almuñécar.
Telephone:
958 880 704, 902 224 222.
Taxi Stand
Next to the station there is a
taxi
and the urban buses
stand
, in the
Plaza de la Carrera
.
At this stop you can take
Bus Route 3
: Velilla-Pozuelo-Taramay.
On the
other side of the road
there is another stop of the Route 3 in the opposite direction.
You Might Also Be Interested In
Page Updated: Oct 24, 2021
©
Copyright
• LoveGranada.com • Any use of the content, including copying of it in whole or in part is prohibited.