Travel Card on Urban Buses of Granada - Granada Bus Pass
What is CrediBus?
This is a travel card or bus pass - a ticket with a magnetic strip allowing travel on
Granada city buses
.
Fares, Top Ups, Where to Buy and How to Use
Granada Bus Fares
A city bus trip costs
87 cents
if you buy 5 euros travel card (CrediBus),
85 cents
with 10 euros travel card, and
83 cents
with 20 euros travel card. A monthly travel card costs
41 euros
and with unlimited travel over 30 days.
With a CrediBus you are ensubtitled to make free transfers to other urban buses within 60 minutes of first boarding.
Where to Buy or Rechage my Travel Card?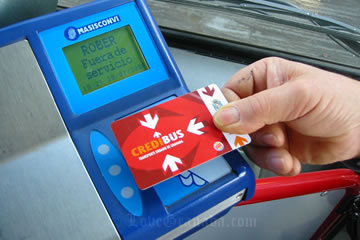 You can buy bus tickets and buy/recharge 5, 10, 20 euros travel cards from the bus driver or by paying at
ticket vending machines
that are located at some of the city bus stops.
Deposit
A 2-euro deposit is payable when buying a CrediBus pass. The deposit is refunded if the traveller returns the pass in good condition at the original point of sale (any city bus driver).
How to Use Travel Card
The passenger passes the travel card over the reader on boarding the bus, at which a green light will show accompanied by two beeps, so deducting the fare.
We Answer Your Questions
Is the Travel Card Only for Use by One Person?
Several people in a group may use the same travel card. A member of the group has to pass the card over the reader once for each person in the group boarding a Granada bus.
If You are Leaving the City and Your Card Still Has Credit
Can I get back the remaining credit if I am leaving Granada, I will not use the card any more and my card still has credit on it?
The answer is
no
, the remaining balance cannot be returned. Only the deposit of 2 euros is returned as long as the card is in good condition.
Can I include my Children in my Monthly Bus Pass?
The monthly travel card can only be used by one person. It cannot be used by several people.
Faulty Travel Cards
I have a Credibus card, accidentally folded it and it no longer works on the buses. How can I recover the money I had on this card?
If a travel card is faulty, the traveller can take the damaged travel card to Customer Service office.
Also you have to bring the new travel card that you can buy on any Granada city bus and pay the deposit of 2 euros.
Usually it can be done the same day.
This office is located in Acera del Darro 30, Los Montes Orientales House, n 22, near Puerta Real/Corte Ingles (centre), open between 08:00 h and 15:00 h Monday to Friday. The bus company is called Transportes Rober.
©
Copyright
•
LoveGranada.com • The reproduction of the whole content or parts of it is prohibited
Personal data
protection policy
.
Information Related to the Granada Travel Cards