Information & Tourism
Teahouses in Granada that offer a variety of exotic teas, cakes, crepes, summer terraces with stunning views of the Alhambra.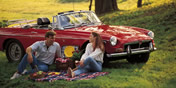 Car hire in Granada city centre, rent a car near Granada Railway Station and Granada Airport, discounts, rates and companies.
Trains from Granada to Madrid, Barcelona, Malaga & Sevilla, Granada Train Station, train stops in the towns of the province.