Tea Houses in Granada - Aromatic Teas, Moorish Pastries and Pancakes
Granada is sure to have a tea house or tea room that you will find interesting. There many places in Granada where you can try an exotic tea but Caldereria Nueva is a pedestrian street that seems have devoted exclusively to Arab tea houses, Moorish craft shops and stalls.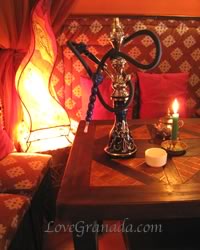 ☞
If you want to
enjoy a special visit
these guided tours offer unique opportunity to discover Granada.
☆
Alhambra + Albaicín + Sacromonte Tour
: a
combination of the complete tour
of the Alhambra (Palaces, Alcazaba, Generalife) + the Albaicín + the Sacromonte.
☆
Albaicin and Sacromonte Guided Tour
: discover this
old arab quarter
of Granada with this
guided tour
.
There you can find aromatic teas, Moorish pastries, pancakes and other light refreshments.
Some tea houses in Granada are Kasbah, Jardin de los Suenos (Garden of Dreams), Pervane, Medina Azahara, Ziryab Dar. There are also many creperies, kebab and organic food stores.
Teahouse Abaco Te in Albayzin
Teahouse Abaco Te is located in the lower part of the Albayzin in a 2-storey house with the terrace overlooking the Alhambra.
Great variety of teas, coffees, chocolates, herbal teas, juices, iced drinks, milk shakes and yogurts. Nice atmosphere, good service, great rates and free internet connection.
Specializes in crepes, salads, cakes and sweets.
Address
: Teahouse in Albayzin Abaco Té, Alamo del Marqués 5, Granada;
Tel
: 958 221 935
Teahouse Kasbah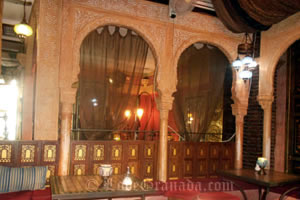 Arab teas, oriental, aphrodisiacs, smoothies and juices, Moorish pastries, pancakes, cakes, wine and Andalusian liquor. Specialties: Arab cuisine, vegetarian, Indian and middle east.
Open from 12 am, Tel: 958 227 936
Address: Teteria Kasbah c/ Caldereria Nueva 4, Granada.
Teahouse Oriental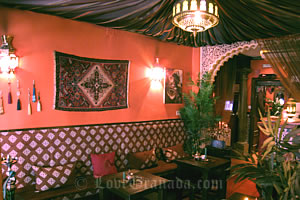 Teteria La Oriental has a neat decoration, uncluttered and exotic. It also has two floors with large Arabic dining room.
Exotic teas, classic, natural juices and smoothies, sweet and savory crepes, and Moroccan food. Quality products. Recommended by several international guidelines.
Address: Oriental Teahouse, Caldereria Nueva street
Teahouse Nazari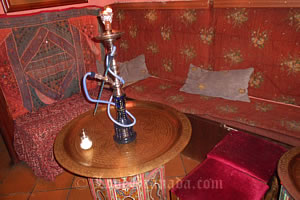 Nazari Tea is a teahouse in Granada that has Moroccan, Libyans, Turks, Russians, Egyptians, Iraqis, saharavis and persasi teas.
Open from 14:00 until 24:00.
Address: Caldeleria Nueva 14 street, Granada.
Teahouse Alfaguarra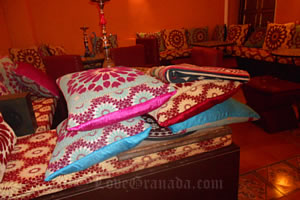 The teahouse is situated in the heart of Granada, in the lower Albaycin in Caldereria Nueva - the street where you will find many other tea houses.
Founded in 1987, has a wide variety of teas, sweet crepes, fruit teas and delicious Arabic dishes such as cous cous, Egyptian tea and variety of shakes, snacks and water pipes or hookahs.
Address: Alfaguarra Teahouse, Caldereria Nueva 7.
You Might Also Be Interested In
©
Copyright
• LoveGranada.com • Any use of the content, including copying of it in whole or in part is prohibited.