Flights from London Gatwick to Granada with EasyJet
British airline easyJet canceled its filghts to/from Granada.
A good way to get to know Granada and its history is by taking a tour. There are several interesting free and private tours offered by Civitatis: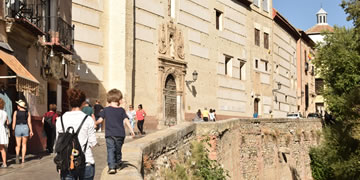 What better way to get to know the hisotric centre of Granada than on a
free walking tour
with a local expert guide?!
Discover the hidden treasures and secrets of Granada
exclusively just for you
and your partner, friends, or family.
EasyJet is a low-cost airline which offers cheap flights. The aircraft type used is the Airbus A320, with seating for 180 passengers.
EasyJet has similar prices to Ryanair (London to Málaga), but may be a bit more expensive. However, flying with easyJet there is no need to spend extra on the
Málaga-to-Granada bus service
, a road trip of 1.5 hours.
The London-to-Granada flight takes approximately two hours and fifty minutes. This flight-time takes into account the fact that London is one hour behind Granada time.
Flight Schedules London-Granada
There are three flights per week, on Tuesdays, Thursdays and Saturdays.
Flights from Granada to London
Tuesdays
departing from Granada at
12:05
, arriving to London at
13:45
Thursdays
departing from Granada at
13:30
, arriving to London at
15:10
.
Saturdays
departing from Granada at
12:25
arriving to London at
14:15
.
Flights from London to Granada
Tuesdays
departing from London at
07:35
, arriving to Granada at
11:30
.
Thursdays
departing from London at
08:55
, arriving to Granada at
12:50
.
Saturdays
departing from London at
07:55
arriving to Granada at
11:45
.
Tickets, Hold and Cabin Luggage, and Extra Charges
A good way to get to know the Alhambra, its histor, palaces and gardens is by taking a tour. There are several interesting free and private tours offered by Civitatis:
Discover the incredible history and architecture of the impressive Alhambra, the Generalife and Nasrid Palaces with a passionate and experienced guide.
See the Alhambra from a new perspective, visiting the surroundings of the beautiful Alhambra, free areas and gardens, the Palace of Charles V...
EasyJet is a low-cost airline and you can travel quite cheaply if you book tickets well in advance. It is possible to book a return flight for as little as 55 euros, providing you have no hold luggage, do not choose your seats, or do not take out travel insurance, etc.
Normally, prices do exceed 55 euros and vary depending on the date and time of travel.
Hold and Cabin Luggage and Other Charges
You can take on board one cabin bag not exceeding 56 x 45 x 25 cm. You have to be careful, for if your bag exceeds this size, you will need to register it at the gate and it will cost you around an extra 50 euros.
There is no weight restriction for cabin luggage. If you are able to place the bag into the overhead locker, the bag will be accepted into the cabin.
You can also take a laptop or a small handbag on board in addition to the cabin luggage.
The total price of the ticket may include additional costs. The following are the main extras, although there may be many more. You need to read everything carefully on the easyJet webpages during the booking process.
- Luggage is very expensive; a 20 kg suitcase will cost you 56 euros and 32 kilos 151 euros. Up to 3 items of hold luggage are allowed per passenger.
- Sports equipment from 84 euros.
- A card fee of 1% of the total value of the transaction applies when paying by Visa debit or MasterCard.
- There is an extra charge of 4 euros if you want to select your own seat.
- Excess luggage, 14 euros/kilo.
How to get from Granada Airport to the centre of Granada
You can see detailed information on the Granada Airport bus service and taxis in
Granada Airport Buses
,
Granada Airport
and
Granada Taxi
.
How to Get from Central London to Gatwick Airport
Gatwick Airport is about 45 km from central London. There are three ways to reach the centre: by train, bus or taxi.
There are various train and bus companies that connect London with Gatwick, and the price, duration and quality all vary.
Trains from London Stations to Gatwick Airport
The Gatwick Express
The ticket price is 19.90 pounds one way; 34.90 pounds return. Half price for children from 5 to 15 years.
Other train companies
Apart from the Gatwick Express, Southern Railway and First Capital Connect also connect Gatwick Airport with London Victoria, London Bridge, Kings Cross, Blackfriars, Farringdon and City Thameslink stations.
These trains are cheaper than the Gatwick Express, around 11-15 euros one way. These trains may be a better choice, not only because of the price but also if you live close to one of these stations.
They are a bit slower, taking about 10-15 minutes longer to reach Gatwick.
On the map you can see from which stations you can take a train to Gatwick Airport.
Buses from Gatwick Airport to London Victoria or other stations
Easyjet also runs a London Victoria-Gatwick Airport bus service, called easyBus.
These buses are the cheapest option, with a one-way trip costing 4-6 euros, but they are considerably slower than the trains, taking approximately 1 hour and 20 minutes to reach Gatwick Airport.
Another road option is the coach company National Express. The cost of a return trip is about 7-8 euros. The duration of the journey is similar to that of easyBus.
Taxis from Central London to Gatwick Airport
This is the most expensive option, as a taxi will cost you around 100 pounds to go to Gatwick Airport and it usually takes around 1 hour. It is far cheaper and faster to go by train.
You Might Also Be Interested In
©
Copyright
• LoveGranada.com • The reproduction of the whole content or parts of it is prohibited
Personal data
protection policy
.