Traditional Arab Baths Hammam in Granada at the Base of the Alhambra
Arab Baths Hammam Al Ándalus Granada are located in historic old stone building in the centre of the city. It is a cozy and clean place where to relax and chill out after a long day of sightseeing in the city.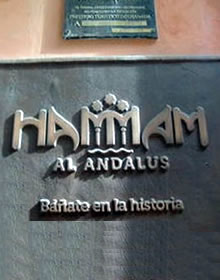 ☞
If you want to
enjoy a special visit
these guided tours offer unique opportunity to discover Granada.
☆
Alhambra + Albaicín + Sacromonte Tour
: a
combination of the complete tour
of the Alhambra (Palaces, Alcazaba, Generalife) + the Albaicín + the Sacromonte.
☆
Albaicin and Sacromonte Guided Tour
: discover this
old arab quarter
of Granada with this
guided tour
.
It is part of the Al-Andalus chain Hammam, and has both a steam bath and cold, medium and hot pools.
The changing areas are single sex, have showers and lockers, but the pools and massage area are coed so you must bring your bathing suit or you can purchase one at the front desk.
Arab Bath Hammam Al Ándalus Granada Services
Hammam has 7 rooms:
1. Relax room, where you can rest and to enjoy some tea.
2. Cold room, low water temperature of 18ºC.
3. Warm room, with a temperature of 36ºC. It is the recommended room to start the circuit.
4. Hot room, water temperature of 39ºC.
5. Steam room, water vapour with several essences.
6. Massage room.
7. Hot stone room, with big hot stone where the visitor can relax the skin.
Hammam Al Ándalus Granada Prices
Emerge: bath during 90 minutes, 37 euros.
Mimma15: bath during 75 minutes and 15 minutes massage, 52 euros.
Mimma30: bath during 75 minutes and 30 minutes massage, 64 euros.
Midra30: bath during 60 minutes, 15 minutes massage and 15 minutes of traditional kessa (purification on a hot stone bed), 73 euros.
Midra45: Bath during 45 minutes, 30 minutes massage and 15 minutes of traditional kessa: 83 euros.
Opening Hours and Contact Details
Opening Hours
Hammam Al Ándalus Granada is open from 10:00 to 24:00 from Monday to Sunday.
Address
Hammam Al Ándalus Granada, Calle Santa Ana 16, Granada.
Telephone
958 229 978 and 902 333 334.
You Might Also Be Interested In
©
Copyright
• LoveGranada.com • Any use of the content, including copying of it in whole or in part is prohibited.