Granada Bus Station - Timetables, Maps, Tickets and Contact Details
The Granada bus station is located on the outskirts of
Granada
. It offers tourist information to travelers, car rentals, lockers, restaurant and cafe shop.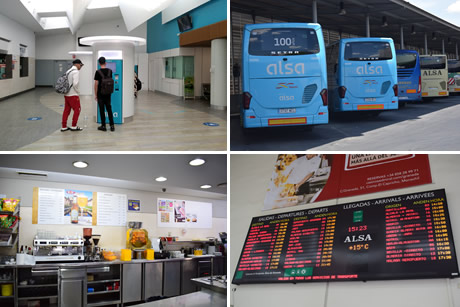 From the station you can take a bus or a
taxi
to Granada center or to the
airport of Granada
. You can also buy tickets at the station.
Companies Operating in the Granada Bus Station
The only company that operates in Granada Bus Station is Alsa.
This company is owned by National Express (UK), covers the main routes from Granada to other cities, Granada province routes and also linking Granada with the rest of Andalusia and Spain.
Alsa offers services to cities such as: A Coruna, Barcelona, Bilbao, Madrid, Malaga, Marbella, Nerja, Lanjaron, Almunecar, Seville and many others.
Metropolitan buses routes offered by the transport consortium of Granada) to the villages near Granada do not leave from Granada's bus station.
Telephone for reservations and enquiries: 902 422 242.
Where to Buy Tickets
You can buy bus tickets by phone, on the internet at www.alsa.es or directly at the bus station.
The opening hours of the ticket office:
Monday - Sunday: 06:30 to 01:30, 365 days a year
December 25 and January 1: 07:30 to 01:30, 24 and December 31: from 6:30 to 20:00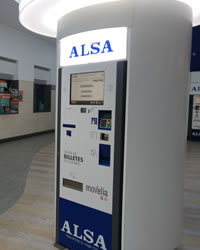 If you are having problems to book a ticket with Alsa
If you try to buy a bus ticket on the Alsa website from abroad and you are not able to do it with your credit card, try PayPal, it usually works.
Also if you make an account at Alsa BusPlus; after the 1st booking there are no more reservation costs. Also a print of the ticket is not necessary; a .pdf + ID is enough.
Services in Granada Bus Station
Granada Bus Station has 28 departure bays from which the buses leave to all destinations.
There are good amenities such as information screens providing details of all bus arrivals and departures, restaurant and coffe shop, book shop, cash machines, lockers and information point.
For information on departure and arrival times, destinations and fares, call the bus station on 902 42 22 42 (but it is not easy to get through).
Luggage and Lockers in Granada Bus Station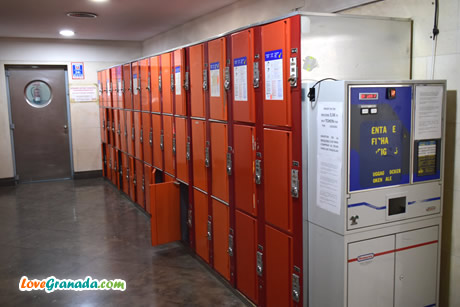 Granada Bus Station has luggage storage lockers. They are on the ground floor, adjacent to the waiting room. The price is 3.50 euros per day per locker. Normally one locker fits one piece of luggage.
The maximum size of the suitcase that fits in the locket is approx. 25 cm wide and 50 cm high.
Beware! Luggage is left in lockers at one´s own risk; it has been known for certain individuals to hire a locker and make copies of their key, so that when someone else uses the locker, they become the unfortinate victim of locker theft.
Restaurant and Cafe in Granada Bus Station
Restaurant in Granada Bus Station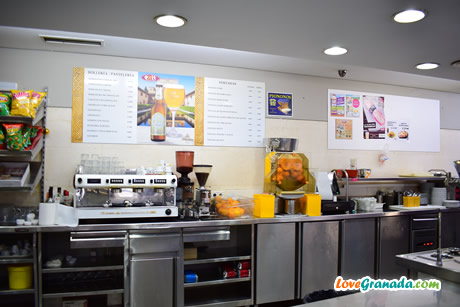 The restaurant has a dining room for groups up to 80 persons. The daily menu consists of a main course (choice of three dishes), a drink and dessert (choice of five).
Coffe Shop
Snacks, sandwiches and other dishes.
Cafeteria and restaurant telephone: 958 185 494
A cup of coffee or tea costs around 1,50 euros and the price of the sanwiches is between 3 and 4 euros.
Taxis in Granada Bus Station
In front of the bus station there is a taxi stand. There are taxis waiting in line that can be taken right away, there is no need to book in advance?
There are two rates: rate 1 - Monday-Thursday from 7:00 to 22:00 and Friday from 7:00 to 21:00; more expensive rate 2 - from 22:00 to 7:00 on weekdays, all day weekends and festivals.
Here is a list of approximate prices of taxi from / to the Granada station.
Granada Bus Station Contact Details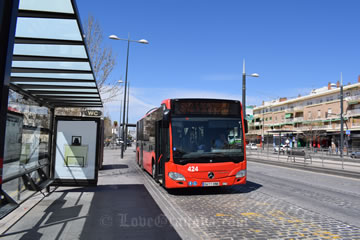 Granada Bus Station is located on the northern edge of Granada.
Address: Carretera de Jaen, s/n
18014 Granada
Phone: 902 422 242. It is the phone number of the coach company Alsa, not the bus station.
You can call this number to recieve information on timetables and fares, buy tickets and other questions related to Alsa.
The station does not have a phone number where you get information on bus station services: lockers, parking, restaurant, etc.
Getting to the Station
You can reach the Bus Station from Granada city centre
by bus
route 5 (via Camino de Ronda) and 33 (via Gran Via).
Granada Bus Station is located 15 minutes by bus or taxi from the city centre. It lies on the Carretera de Jaen, in the northern part of the city.
Lost Property in the Intercity Buses of Granada
Lost objects are stored in the information point which is next to the ticket office at the bus station.
You can go directly to this office or call Alsa on 902 422 242.
It is not possible to call the bus station directly. Alsa will call the information point to find out if the lost object is there, and then returns the call to the client.
Location of the Granada Bus Station
Parking in Granada Bus Station
There is a public parking just next to Granada bus station. This parking is usually almost empty. Also there are many free parking areas around the station.
©
Copyright
•
LoveGranada.com • The reproduction of the whole content or parts of it is prohibited
Personal data
protection policy
.
Information Related to the Granada Bus Station
Opinions about Granada Bus Station
Alsa Busses
I have tried to book a ticket with ALSA from Granada to Malaga Airport. Website in English but you cannot book from overseas as you need Spanish credit card. Really bad service (Jean).
Bad Service
Same problem as above. I have wasted a lot of time on this. Trying to find out if there is a ticket office in downtown Granada but having a very difficult time of it :( (Sarah).