The Bars and Pubs of Almuñécar - Where to Enjoy the Best Tapas
Here we look at the area of pubs in
Almuñécar
in the Plaza Kelibia, the Plaza de Madrid and the surroundings of the Paseo Marítimo del Altillo.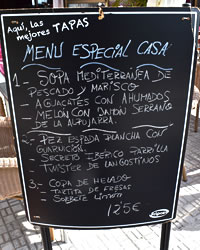 There are pubs that function as a tapas bar during the day and as a pub for evening drinks. The nightlife in Almuñécar is reputed to be the most lively on the
Costa Tropical
.
There is a lot of foreign tourism, mainly Italian and Central European. Normally they are young people whose plan is to enjoy the Sun and party.
You can choose between many different ambiences: quiet pubs, establishments with live music, karaoke, nightclubs that do not close until the day arrives, etc.
Bar Restaurante Andalusí
Bar with terrace near the shore. It serves excellent and generous tapas and raciones (smaller portions than a full-sized dish), with a good menu of fish, meat and salads.
It is located at the end of San Cristóbal beach, on the beach of La China, near Cotobro.
Address: Paseo de Cotobro, s/n. Telephone: 958 632 453
Higuitos Bar
In the Old Town, near the Town Hall, among shade-providing trees.
This bar is located in a small pedestrian square. It has a nice terrace with special charm and is very quiet.
A good place to enjoy a cold beer and a tapa. You can also order a ración or a paella.
Address: Plza. de los Higuitos, 5. Telephone: 958 632 752.
Mesón Francisco II
A very typical and traditional bar that offers good tapas and an inexpensive menu. It is just like its sister establishment, the Francisco I Winery, which has been open since 1951.
It is located at the upper end of Calle Alta del Mar with a nice terrace. To reach this place, you need to navigate through a couple of town quarters.
It is not a good place for animal lovers or for vegetarians: with its somewhat peculiar décor, the walls display heads of stuffed animals and some hanging horns.
Address: C/ Alta del Mar, 12. Telephone: 958 639 842.
La Bodeguita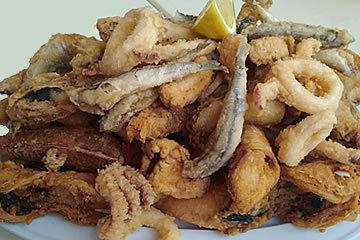 Very close to the beach of Puerta del Mar, in a small, pedestrianized street.
The bar is a bit small and is almost always full, as it is very popular.
This is a good option if you're looking for tapas. Fresh and good-quality fried fish dishes are also served.
If you are looking for a quiet place to relax, then this is not it: located in the narrowest part of the pedestrianized street, the noise can be annoying.
Address: C/ Manila, s/n.
©
Copyright
• LoveGranada.com • The reproduction of the whole content or parts of it is prohibited
Personal data
protection policy
.
You Might Also Be Interested In