The Alpujarra of Granada - Virtually Untouched Villages Since Arab Rule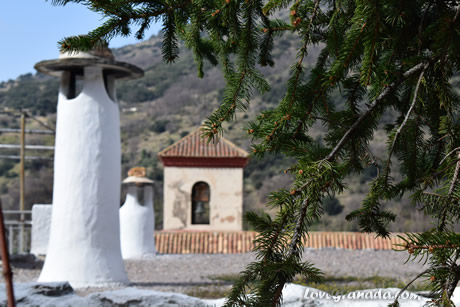 The Alpujarra is one of the most visited regions of the
province of Granada
. Difficult access to this mountainous area has, until recently, contributed to the region conserving such a picturesque landscape and architecture.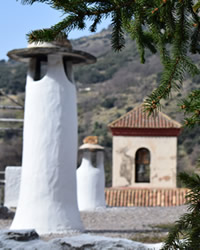 ☞
If you want to
enjoy a special visit
these guided tours offer unique opportunity to discover Granada.
☆
Alhambra + Albaicín + Sacromonte Tour
: a
combination of the complete tour
of the Alhambra (Palaces, Alcazaba, Generalife) + the Albaicín + the Sacromonte.
☆
Albaicin and Sacromonte Guided Tour
: discover this
old arab quarter
of Granada with this
guided tour
.
The Alpujarras cover the area between
Sierra Nevada
and
the sea
and stretch eastwards towards the province of Almeria. To the west borders the mountains of Lujar and to the south they almost reach the ocean.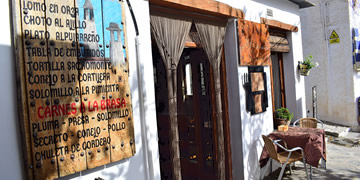 Where to eat and drink, typical dishes and cuisine of the Alpujarras, the oldest traditional restaurants and bars of the province of Granada.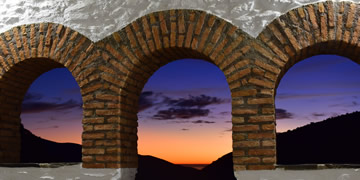 A unique history of the Alpujarras, the suppression of customs and language of the Moors, rebellions and the disputes in the Alpujarras.
Virtually untouched since Arab rule, yet retaining the original Berber architecture, unique to Spain, it was only in the late nineteenth century that artists, bohemians and backpackers started to arrive to this area. The Alpujarras of Granada are very popular with many visitors, especially the British.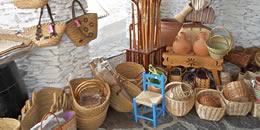 What to see in the Alpujarras, popular festivities, traditional folklore of this land, Moors and Christians Festival and Traditional Music festivals.
Access routes between Granada and the Alpujarras, how to get to the Alpujarra by bus or car, bus timetables, distances, opinons and recommendations.
The picturesque buildings of
the Alpujarras
are one of the most typical features of the Alpujarras landscape. The houses are of a cubic shape with a flat roof, typical of an area of low rainfall, and round chimneys.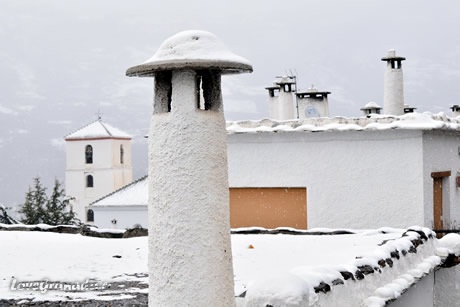 The cover is made of fauna, magnesium clay that is impermeable to rain and has a roof of stone. These terrae which now often function as driers have a kind of hood, almost a cylindrical fireplace, topped by a small slab.
In many cases there are steps that bridge the gap between a house and the roof of another, so the street is covered.
Alpujarra houses usually have two floors and are usually whitewashed. In upstairs are the rooms and kitchen on the bottom, areas for livestock and farm tools.
You can also
discover the Alpujarras
joining
Day Bus Trip to the Alpujarras
that includes several charming villages: Lanjaron, Pampaneira, Bubion and Capileira.
You Might Also Be Interested In
Page Updated: Oct 31, 2021
©
Copyright
• LoveGranada.com • Any use of the content, including copying of it in whole or in part is prohibited.