History of Alpujarra - Invasions, Rebellion and Disputes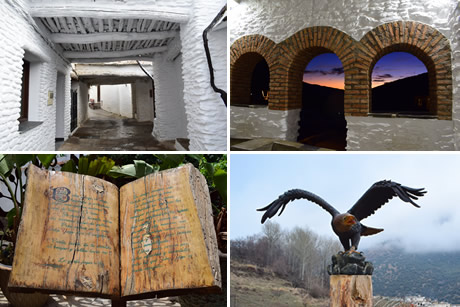 Peculiar History of The Alpujarras
When you are driving from Granada, the first stop is the Suspiro del Moro. A legend says that this is the place where last arab king Boabdil said goodbye to the city and where his mother told him, "Weep like a woman what you could not defend as a man".
The physical characteristics of this area have helped forge a unique history of the Alpujarras. During the early days of the Arab invasion,
the Alpujarras
was a centre of Christian resistance, but it was during the Muslim rule in Andalusia that the Alpujarras experienced true development.
Rebellions and Disputes in the Alpujarras
With the conquest of Granada by the
Catolic Kings
, the Muslims were then forced to into Christian baptism or to emigrate. Those who chose the first option became known as Moriscos.
The measure provoked many reactions against the kings and the most violent was the protest in the Alpujarras in 1500. This was followed by the suppression of their language and customs.
In 1567 King Philip II issued an edict that forced Christianity on the children of the Moors, which caused an uprising a year later in the Alpujarras.
The nobleman Fernando de Cordova became the leader of the Moors and took the name of Aben Humeya, crowned king of the Alpujarras.
In the early days of the rebellion, successive military expeditions sent by Philip II resulted in failure. The rebels were assisted by the Ottoman Empire and the Spanish king decided to send John of Austria to the area.
But then came the disputes within the Moors, and Humeya was accused of treason and hanged in 1569 by supporters of a new self-proclaimed King of the Moors, Aben Aboo.
However, Aben Aboo in turn was also executed amid internal dissension, and in the spring of 1571 the uprising was finally put down by John.
After that, the Moors were finally expelled from Granada and distributed to communities in Castile, where they were forced to work in bad conditions.
Thus began a period of decline for The Alpujarras, despite the repopulation of the area with people from the north of Spain.
Rent Rural House in The Alpujarras
Rent a house in Bubion, Pitres, Lanjaron and Capileira, Orgiva,
Campaneira ...
©
Copyright
• LoveGranada.com • The reproduction of the whole content or parts of it is prohibited
Personal data
protection policy
.
Opinions about History of the Alpujarra
The inhabitants of the Alpujarra
The first settlers of La Alpujarra were the African tribes. And before the Arabs in the Alpujarra lived the Celts, and then the Romans, and when Rome lost its power, by Visigoths. But, what we see now, shape and structure of the streets comes from the Muslims. As the Alpujarra is isolated place surrounded by mountains, this vilages are very well preserved and remind us a Moorish past.