Alhambra Nazrid Palaces, Courtyards, Royal Apartments and Walkways
The Alhambra
is more than a just a palace; it is an entire walled city within the city of Granada. There are royal apartments, forts, gardens, pavilions, barracks. All this surrounded by an impressive wall.
The Alcazaba
The Alcazaba consists of buildings dating from the thirteenth century in grounds used solely by the military.
The first thing you see when you enter is the Plaza de Armas (Armoury Square), which contained lodgings for the troops.
All that remains is the foundations of these buildings, marked with a small wall. In the basement are where the aljibes (water reserves) were kept.
On the left is the Jardin de los Adarves (Garden of the Ramparts) dating from the Seventeenth Century, laid out with cypress trees, flowers and many fountains.
Beyond this are the Torre de la Polvora (Powder Tower) and the Torre de la Vela, so named because the Catholic Kings placed a bell in the tower.
When the bell was struck, it indicated the beginning of a new shift for the irrigation of the plain of
Granada
.
The best thing about this tower is the view it offers over of the city, from one side, and of the Alhambra from another angle.
If you move around the Alcazaba clockwise, you will reach the Puerta de las Armas, the main entrance to the Alcazaba during the Arab period.
La Casa Real - Royal House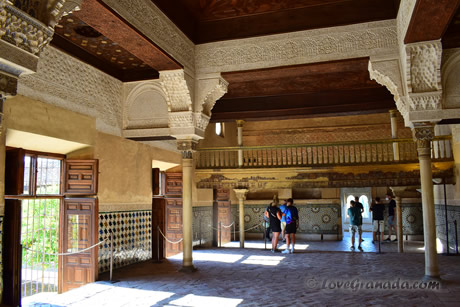 This name is given to all Nazari palaces. It can be divided into three main categories, The Mexuar or Meshwar, the Comares Palace, the Palace of the Lions, and in addition the later Christian buildings.
The Mexuar (photo) was where matters concerning the administration of justice were dealt with.
This is the first thing you will see when you enter the area, and one of the most affected by the Christians following their arrival.
Palacio de Comares - Comares Palace
This palace completely surrounds the Patio of the Myrtles, myrtle being the plant which forms the hedges of this court.
The Palace of Comares is considered one of the jewels of the Alhambra, with a beautiful pond flanked by two rows of hedges.
On the left is the Tower of Comares, the highest tower of the Alhambra (45 meters).
Palacio de Carlos V - Carlos V Palace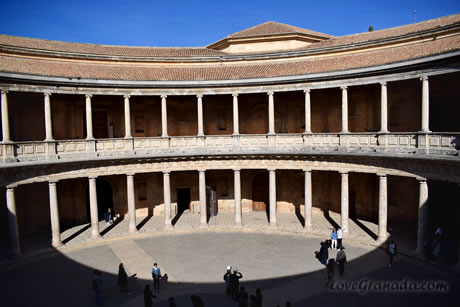 This is the great edifice near the entrance to the ticket office, which for many people breaks the delicate harmony of the Alhambra.
Despite the above, it is one of the finest examples of Renaissance architecture.
Patio de los Leones - Lions Palace
Upon entering, one is struck by the forest of 124 columns that surround the courtyard.
Everything in this garden has a symbolism representing paradise, surrounded by four rivers, while twelve lions at the centre represent the twelve signs of the zodiac.
The Partal Gardens are one of the most beautiful areas in the Alhambra. This land was occupied by the military quarters.
©
Copyright
• LoveGranada.com • The reproduction of the whole content or parts of it is prohibited
Personal data
protection policy
.
You Might Also Be Interested In