Granada Coaches - Intercity Buses to Madrid, Barcelona, Malaga
If you travel to Granada and chose a bus or coach as your mode of transport, this section will be useful. Here you can find information on intercity buses from Granada to Madrid, coaches to Barcelona, Seville, Malaga, Valencia, and Almeria.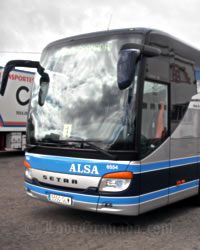 A
good way to get to know Granada
and its history is
by taking a tour
. There are several interesting
free and private
tours offered by Civitatis:
Free Tour of Granada
: What better way to get to know the hisotric centre of Granada than on a
free walking tour
with a local expert guide?!
Private Tour of Granada
: Discover the hidden treasures and secrets of Granada
exclusively just for you
and your partner, friends, or family.
Contact details of intercity bus companies operating in Granada, phone numbers, web sites where you can check the rates and routes, bus stops and the best combinations of routes to get around.
ALSA
Granada Intercity Buses Connecting Granada with:
Albunol
Albunuelas
Alcala la Real
Alcaudete
Algarinejo
Algeciras
Alhamai Almeria
Almunecar
Antequera
Benalua
Berchules
Berja
Cabra
Cadiz
Calahonda
Campillo Arenas
Carchel
Cartagena
Castillo Tajarja
Cazorla
Cordoba
El Ejido
Güajar Faraguit
La Herradura
Huelva
Huetor Tajar
Herradura
Jaen
Jayena
La Linea
La Malaha
Lanjaron
La Puerta
Linares
Loja
Malaga
Montefrio
Montilla
Motril
Murcia
Nerja
Orgiva
Pinos del Valle
Priego
Salar
Salobrena
Sevilla Directo
Sevilla Ruta
Siles
Torre del Mar
Torrenueva
Ubeda
Phone:
958 185 480
Address:
Ctra. Jaen s/n, 18013 Granada.
Web:
www.alsa.es.
You Might Also Be Interested In
©
Copyright
• LoveGranada.com • The reproduction of the whole content or parts of it is prohibited
Personal data
protection policy
.