Granada Police - Local, National and Police Station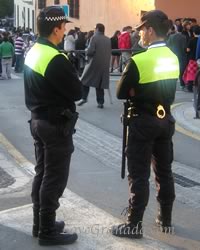 A
good way to get to know Granada
and its history is
by taking a tour
. There are several interesting
free and private
tours offered by Civitatis:
Free Tour of Granada
: What better way to get to know the hisotric centre of Granada than on a
free walking tour
with a local expert guide?!
Private Tour of Granada
: Discover the hidden treasures and secrets of Granada
exclusively just for you
and your partner, friends, or family.
Granada Local Police
Address: Calle Huerta del Rasillo s/n, 18004 Granada
Telephone: 092 or 958 248 211
Opening Hours: 09:00 - 14:00
Services:
Complains of Granada citizens, private conflicts, controlling traffic within the city of Granada, traffic accidents in Granada.
Granada Police Station
Address: Plaza de los Campos s/n (Barrio Realejo), Granada 18009
Telephone: 958 808 800
Opening Hours: 09:00 - 14:00
Services:
Receiving complaints of sexual and domestic violence, family violence, abuse of minors, emergency and evacuation plans.
Granada National Police
Telephone: 091
Opening Hours: 09:00 - 14:00
Services:
Maintaining order and security of the citizens of Granada, investigating crimes, protection of public buildings, control of entry to Spain of foreigners and Spanish nationals, immigration, private security services.
Driver and Vehicle Licensing Agency
Address: Carretera de Alfacar 1, 18011 Granada (Near Alcampo and Paseo de la Cartuja)
Telephone: 958 156 950 or 958 156 911
Opening Hours: 09:00 - 14:00
Services:
Registration of motor vehicles and motorcycles, renewal of driveing license, payment of fines, certificates of accidents, changes of address notificantions and other services
Guardia Civil in Granada
Address: Calle San Agapito 2 (near Traumatologia), Granada 18013
Telephone: 062 or 958 909 413
Opening Hours: 09:00 - 14:00
Services:
The surveillance of the traffic in interurban area, ensuring compliance with environmental conservation, protection of public buildings, investigate crimes, prosecute smuggling, protection of VIPs, maintain security and order.
You Might Also Be Interested In
Page Updated: Feb 27, 2020
©
Copyright
• LoveGranada.com • The reproduction of the whole content or parts of it is prohibited
Personal data
protection policy
.
Opinions about Granada Police
African illegal immigrants harassing tourists
It would be nice to fix the problem with African illegal immigrants in center of Granada.
The last time I was in Granada they were selling counterfeit items, dealing drugs and they were very aggressive.
This is not good for tourism in city letting these people harassing tourists (Ivor).