Maundy Thursday in Granada - 14 April 2022
This year all of the processions have unfortunately been canceled. Here you can recall how Maundy Thursday in Granada has been celebrated in previous years and
give your comments
.
Maundy Thursday
, is certainly the Albaycín's big day, when thousands of people flood the neighbourhood looking for the best spot to watch their
cofradías
.
Amazing, indeed, it is the work of the costaleros carrying '
Nuestro Padre Jesús del Perdón and María Santísima de la Aurora
' through the narrow and winding streets. They leave San Miguel Bajo church at 17:40.
And, at 16:45, from the Monastery de la Concepción comes another spectacular procession: the
Virgen de la Concepción
with  
Nuestro Padre Jesús del Amor y la Entrega
.
It is a unique experience to feel the atmosphere of this old neighborhood, and it is also very special to see all these processions coming back to their churches in the early hours of the morning.
The procession of
María Santísima de la Estrella and Nuestro Padre Jesús de la Pasión
will be climbing the very steep Cuesta de la Alhacaba at around 00:30 to return to the church of San Cristóbal at the very top of
the Albaycín
.
This is truly overwhelming.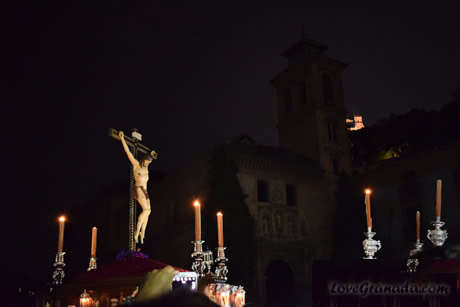 And the last procession to start its parade on Maundy Thursday is called the silence: '
el Silencio
'.
At the stroke of midnight, from the parish church by the
Carrera del Darro
, this beautiful icon made by José de Mora in the XVII century parades through the streets of Granada accompanied only by drumbeats.
There will be no processional marches, only the sound of footsteps of the
costaleros
.
There will be no festive atmosphere, only one of penitance and silence. When they pass street lights go out.
You Might Also Be Interested In
Page Updated: Mar 22, 2021
©
Copyright
• LoveGranada.com • The reproduction of the whole content or parts of it is prohibited
Personal data
protection policy
.