Good Friday in Granada - 15 April 2022
On
Good Friday
, the most popular event of the day takes place in the Campo del Príncipe.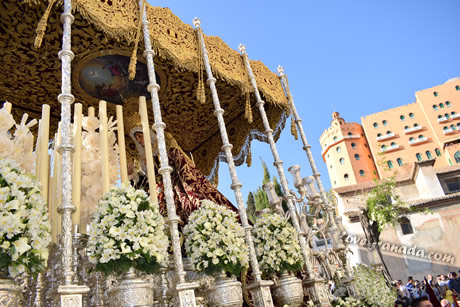 This year all of the processions have unfortunately been suspended. Here you can recall how Good Friday in Granada has been celebrated in previous years and
give your comments
.
In the
heart of the Realejo
more than 5,000 people gather every year to say the traditional prayers before the statue of Señor de los Favores (built in 1682). It is the most popular event of the
Holy Week
in Andalusía.
At 15:00 the crowd becomes silent. There follows a moving prayer which, according to tradition, includes the petition of three "favours" (hence 'Señor de los Favores').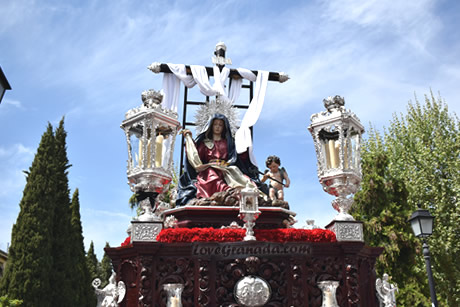 There are six processions in Granada on Good Friday, so it is not easy to decide which ones to see. But if you feel up to experiencing all six, make sure you take comfortable shoes and clothing.
Once again, the Realejo, traditionally one of the most devoted neighbourhoods in the city, opens up two of its main churches,
Santo Domingo
and the parish church of San Cecilio.
The cofradías of
'la Virgen de la Soledad'
(at 13:45) and
'el Santísimo Cristo de los Favores y María Santísima de la Misericordia'
(at 18:55) parade on the streets of Granada.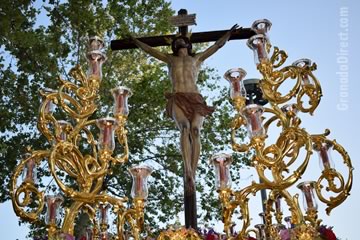 And next to the River Genil embankment, at around 19:15, the procession of the '
Santisimo Cristo de la Expiración and Maria Santisima del Mayor Dolor
' leaves from the parish church of San José de Calasanz.
One of the best places to see it: when it crosses the Roman Bridge next to the
Carrera del Darro
at 19:30.
At 19:00, on the other side of town, people gather at the doors of the
Monastery of San Jerónimo
to witness the carrying-out of the spectacular '
Soledad
', one of the most beautiful icons in the
Semana Santa
of Granada.
See the outstanding beauty in the sadness of its face. It follows the
Holy Sepulchre
accompanied by a uniquely fascinating cortège.
This is the oldest
cofradía
in Granada, indeed its origins date back from 1521.
Finally, we return to the
Plaza Nueva
to see the procession known as "
el Entierro de Cristo
" (the Entombment of Christ), coming out of the parish
church of San Gil y Santa Ana
at 20:15.
You Might Also Be Interested In
Page Updated: Mar 22, 2021
©
Copyright
• LoveGranada.com • The reproduction of the whole content or parts of it is prohibited
Personal data
protection policy
.