Easter Sunday - The Last Day of Holy Week, 17 April 2022
On
Easter Sunday
, all the bells in Granada toll joyfully. Processions take to the streets in the morning.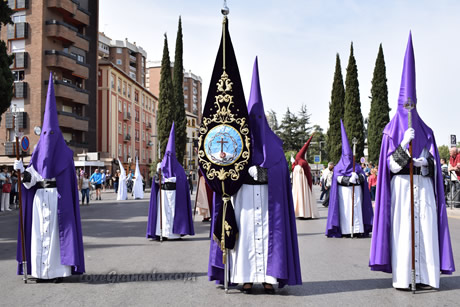 This year all of the festivities have unfortunately been canceled. Here you can recall how Easter Sunday in Granada has been celebrated in previous years and
give your comments
.
A children's procession leaves at 10:30 from the
Church of Santo Domingo
. These processing children are called '
the Facundillos
'.
They carry a small float of a throne with a beautiful image of the Infant Christ accompanied by many other children playing musical instruments.
Traditionally, all of the children who come over to see this procession carry small bells and jingle them loudly.
This procession passes through the Calle Ganivet (the Official Tribune) at 11:40, and it leads to
the Cathedra
at 12:20.
Two more processions close the
Holy Week festivities in Granada
.
At 10:30 from the Church of San Miguel Arcángel, the first cofradía leaves: '
Nuestro Señor de la Resurrección y Santa María del Triunfo
'.
From the Church of Sagrario, next to the Cathedral at 11:00, the
nazarenos
of the '
Resucitado and Nuestra Señora de la Alegría
' walk the streets slowly.
You Might Also Be Interested In
Page Updated: Mar 22, 2021
©
Copyright
• LoveGranada.com • The reproduction of the whole content or parts of it is prohibited
Personal data
protection policy
.