Gastronomy of the Costa Tropical - Typical Cuisine, Restaurants and Bars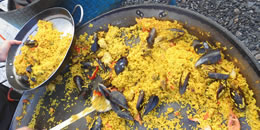 The cuisine of the Costa Tropical of Granada has ancient roots and traditions, and is a reflection of the large number of civilizations that have lived on its soil at different moments in history: Phoenicians, Greeks, Romans, Arabs, etc.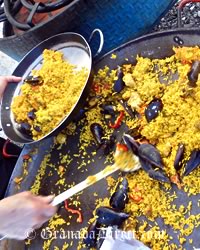 Costa Tropical cuisine is based on fish and seafood from the Mediterranean Sea: squid, cuttlefish, oysters, clams, mussels, prawns, anchovies and many others.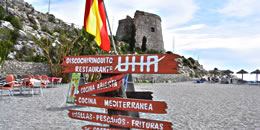 The best restaurants and typical 'chiringuitos' (beach bars) of Almuñécar, tapas bars, places specializing in English, French, German and Italian cuisine.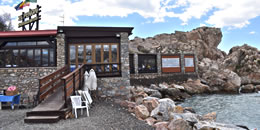 The restaurants where you can try the best fish, those with magnificent views of the sea that offer typical Mediterranean cuisine.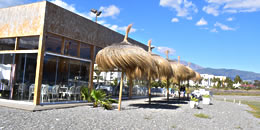 The best restaurants based in Motril, excellent cuisine with an abundance of fresh fish, as well as meat dishes. Where to eat on the beachfront.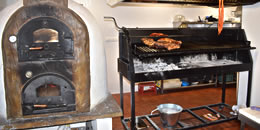 The chiringuitos in La Herradura where the specialty is fish and migas, restaurants that have beautiful views of the sea and terraces with beach tables.
The espetos de sardinas (sardine skewers) are a popular beach art, where succulent freshly caught sardines are grilled inside and out, without burning, thanks to the shape of the cut cane (espeto).
A classic of summer nights on the Costa Tropical are the famous 'moragas', a refined culinary technique that allows you to enjoy fish in a different way.
Potato stews with dogfish, salted fish, monkfish salads and salamadroña soup, based on sardines, pumpkin and spices, all belong to the region's rich culture and long history.
Rices, gazpachos and salads are all washed down with local Costa wine, made in the towns of the adjoining sierras. A tasting that should not be missed: cane rum from
Motril
, the only rum made in Europe.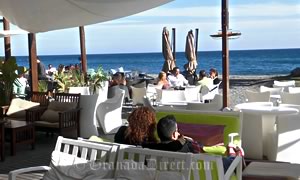 The Arab-inspired pastry is worthy of mention as the true, sweet delicacy of Motril, with almonds and sugar, Velez pestiños (honey-dipped fritters) and some fried donuts.
Don't leave without first trying the famous leche rizada (meringued milk) which has been made by the Pelarrés Heladería since 1900. It has ice cream parlours in Motril, Torrenueva and
Salobreña
.
Restaurantes y Bares de Almuñecar, Salobreña, Motril y La Herradura
Detailed information on the best restaurants and tapas bars of the Costa Tropical in:
©
Copyright
• LoveGranada.com • The reproduction of the whole content or parts of it is prohibited
Personal data
protection policy
.