Unique Activities and the Most Interesting Things to Do in Almuñécar
If you do not know what to do in Almuñécar, apart from enjoying the sun and the sea on
its beaches
, take a look at this section.
You will discover interesting proposals that will surprise you, such as the aquarium, the ornithological park or the cultural activities of the Majuelo park.
The Majuelo Botanical Park
In the historical town centre, a relaxed stroll through the park will allow you to appreciate the archaeological wealth of Almuñécar, since the remains of an old fish salting factory are preserved here, a flourishing activity in Almuñécar in
Phoenician and Roman times
.
In this park you will find a magnificent
collection of subtropical plants
from all over the world. These plants were imported from Central and South America, Africa, the Philippines and New Zealand.
In addition, in summer after sunset, it becomes the
cultural and leisure centre
of the town, since many concerts and leisure activities are held here.
Majuelo Opening Hours
The Majuelo Botanical Park is open daily from
08:00 to 10:00
. Free entry.
Majuelo Location
The Majuelo Botanical Park is
located
about half way between the castle and the Town Hall.
Address:
Avda. Europa s/n.
AquaTropic Water Park
Located on the
beach of Velilla
, this 35,000 m2 water park stands out as the only one offering all the leisure activities of a water park, but with sea water.
It has
14 different attractions
and slides: kamikaze waterfalls, zig-zag waterfalls, water pipe waterfalls, wave pools swimming pool, splash swimming pool, black hole waterfalls, etc.
If you get hungry there are
several food stalls
in the park, food and drinks are reasonably priced.
You can also
bring your own food
, or you can leave the park and have lunch outside and then come back.
AquaTropic Prices
Entry is
21 euros
for adults and
15 euros
for children under 12 years.
The entrance fee is reduced if you enter after 15:00. It has private parking for clients at 5 euros for the whole day.
You need to pay extra for inflatables and your beds: dinghies 8 euros for the whole day, sun loungers 3 euros. Lockers 4 euros.
AquaTropic Opening Hours
It is open every day from June to September between 11:00 and 19:00.
AquaTropic Contact Details
Address:
Paseo Reina Sofía s/n.
Telephone:
958 632 081.
Ornithological Park LoroSexi
It is located on the slopes of San Miguel Castle, very close to the Peñón del Santo and the Majuelo Park. The LoroSexi Ornithological Park is a landmark on the Costa Tropical and receives some
30,000 visitors a year
.
Here you can see about
100 different species
of exotic birds: parrots, toucans, cockatoos, macaws, swans and peacocks, among many others.
Along the way you will enjoy beautiful views of the sea, as it is next to the
beach of San Cristóbal
.
LoroSexi Prices
Admission costs
4 euros
for adults and
2 euros
for children. Open in the months of July and August.
LoroSexi Contact Details
Address:
Pza. Abderramán s/n.
Telephone:
958 635 617 and 615 321 462.
Tropical Walk
A fun option for entertainment during the holidays.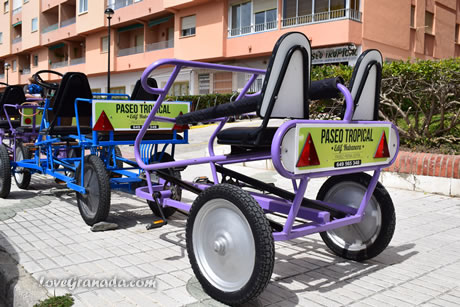 Along the Tropical Walk (Paseo Tropical), you can rent bicycles and pedal cars for two or more people and tour the promenade enjoying the morning or admiring a beautiful sunset.
It is advisable to avoid any kind of physical activity during the hottest hours of the day.
Tropical Walk Prices
A 6-seater with 4 pedals for 1 hour costs 15 euros, a 4-seater with 4 pedals costs 12 euros, a 2-seater with 2 pedals costs 9 euros, a 3-seater car costs 10 euros, and karts 5 euros.
If rental is for only half an hour, prices are
20% lower
.
ID must be presented and you must be of legal age.
Opening Hours
The Tropical Walk is open in July and August, during some festivals and bank holidays.
Contact Details
Telephone:
649 565 348. Located near the Aqua Tropic Water Park.
Aquarium of Almuñécar
In the Aquarium of
Almuñécar
you will learn about ecosystems and the marine fauna of this part of the Mediterranean.
Recently reformed with the help of the City Council, the Aquarium has reopened its doors with
125 different species
, among which are corvinas, moray eels, groupers, jellyfish and seahorses.
The attraction that attracts most interest is a panoramic tunnel that passes under the largest oceanarium in Andalusía, with a million litres of water, which is home to some very special tenants: sharks, among which is the bull shark.
Aquarium Prices
Admission costs
12 euros
for adults and 9 euros for children.
Aquarium Opening Hours
Open all year from
10:00 to 14:00
. Evenings from
18:00 to 22:00
in the summer months; in May, September and at Easter from
17:00 to 21:00
; and in winter from
16:00 to 20:00
.
Aquarium Contact Details
Address:
Pza. Kuwait s/n.
Telephone:
958 882 735 and 615 321 462.
Tropical Express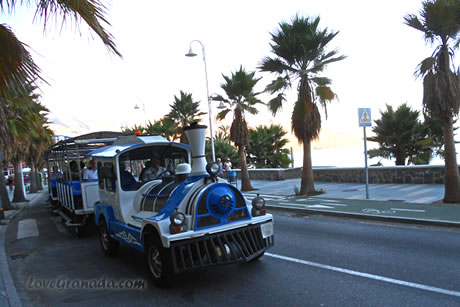 This small open-air city tour train will give you the chance to see what the town has to offer. It is also fun for children.
Tropical Express Prices
Tropical Express train trip costs 3 euros.
Opening Hours and Stops
It operates only in the evening at 18:45, 19:45, 20:45, 21:45 and 22:45. The duration of the trip is about 60 minutes.
The first stop is Paseo del Altillo near the information point and terminates at the end of the
beach of San Cristóbal
.
Other Activities on Offer in Almuñécar
Taramay Tropical Equestrian Centre:
horse riding. Address: Rambla Caballero, s/n. Telephone: 609 568 966.
Yacht Club:
Marina del Este. Telephone: 958 827 514.
Windsurfing 'La Herradura':
Playa de la Herradura. Telephone: 958 640 143.
La Herradura, the best place to dive in the province of Granada, has impressive cliffs and caves. There are several diving centres.
Page Updated: April 15, 2020
©
Copyright
• LoveGranada.com • The reproduction of the whole content or parts of it is prohibited
Personal data
protection policy
.
Opinions about What to Do in Almuñecar
No reviews yet.

Please send your suggestions and thoughts. Your opinion will be of great help to other visitors.