Arab Bath in Granada - Moorish Experience in Traditional Relaxing Bath
Granada preserves some of the oldest baths and the hammams in Spain.
The Hammam
is a steam bath and is made up of different baths each at different temperatures in several rooms and is a very traditional way of bathing and the massage.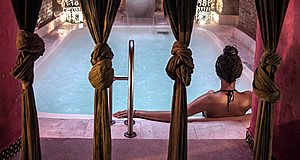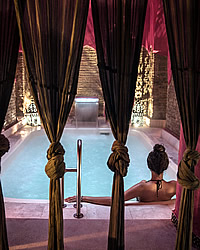 A
good way to get to know Granada
and its history is
by taking a tour
. There are several interesting
free and private
tours offered by Civitatis:
Free Tour of Granada
: What better way to get to know the hisotric centre of Granada than on a
free walking tour
with a local expert guide?!
Private Tour of Granada
: Discover the hidden treasures and secrets of Granada
exclusively just for you
and your partner, friends, or family.
Hammams helps you to reduce stress, allow deep relaxation, firming the skin, provides essential minerals and vitamins, activate the blood circulation and offer many other benefits.
There are several Arab bath in Granada where you will be able to enjoy traditional hammam: hot and cold water bath, relaxing massage, aromatherapy and other treatments.
Aljibe San Miguel
Baños Elvira
Hammam
Royal Alhambra
Basic Bath 90 min.
26 €
25 €
37 €
30 €
Bath + 15 min massage
36 €
35 €
52 €
40 €
Bath + 30 min massage
46 €
50 €
64 €
50 €
Here we offer the comparison of their services, prices, location, contact details and other information: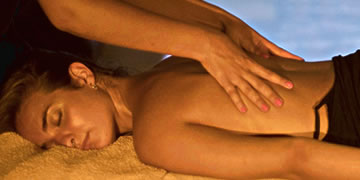 Clean place, relaxing atmosphere, authentic looking arab baths and friendly staff that offer professional massages et economical prices.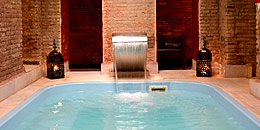 Beautifully decorated place, cosy and relaxing, has warm and cold arab bath, spa and mint-steamd sauna and offers traditional massage.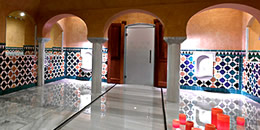 The Royal Arab Baths are a copy of the baths of the Alhambra's Comares Palace, has hot and cold water pools, Turkish bath, jacuzzi and tea room.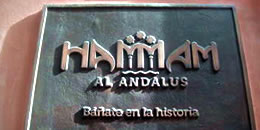 Beautiful arab bath in Granada with a range of different temperature baths, the moorish design, lovely interior with the ambience and the candle light.
If you want to relax on your holidays, make sure you visit one of the Arab baths in Granada which will leave you fresh and new. They are really worth a visit after Granada walking, although is a good way to get rid of the heat.
Also it is a good idea to visit
the Bañuelo
, the monument that gives you an insight how were the arab bath in Granada in the past. Interesting place to visit after going to a funcioning hammam.
You Might Also Be Interested In
Page Updated: Mar 21, 2020
©
Copyright
• LoveGranada.com • The reproduction of the whole content or parts of it is prohibited
Personal data
protection policy
.