How to Get to the Alpujarra by Car, Taxi or Bus from Granada
You can get to
the Alpujarras
by car,
bus
or
taxi
. There no trains. The most comfortable type of transport to go is by car, you can stop in any village you find interesting on your way.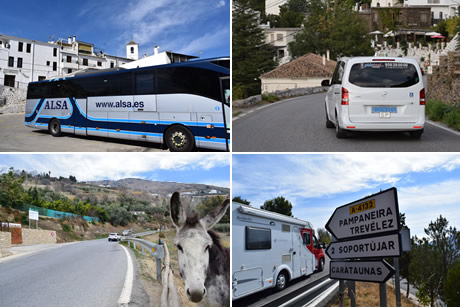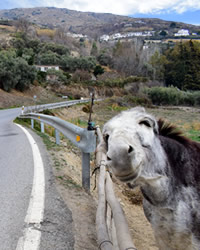 ☞
If you want to
enjoy a special visit
these guided tours offer unique opportunity to discover Granada.
☆
Alhambra + Albaicín + Sacromonte Tour
: a
combination of the complete tour
of the Alhambra (Palaces, Alcazaba, Generalife) + the Albaicín + the Sacromonte.
☆
Albaicin and Sacromonte Guided Tour
: discover this
old arab quarter
of Granada with this
guided tour
.
Taking a bus is impractical because there are not many buses that go to the Alpujarras but if you do not have a car, this is the only transport you can use. Taxi is expensive.
Getting to the Alpujarra By Car
The Alpujarras have several access roads. From Granada it is reached via the N-323 through Armilla, Padul and Durcal to Lanjaron. Then continue on the C-332.
From the
Granada coast
you have to take the A-346 north, following the river Guadalfeo, which leads to Orgiva and, later, to Lanjaron.
From Almeria, route A-347 takes you to the south side of Las Alpujarras, east of Ugijar.
Finally, from the Guadix area and Baza, the Alpujarras can be reached through the beautiful port of La Ragua (2,000 m), the A-337, on the border with Almeria.
Getting to the Alpujarras By Taxi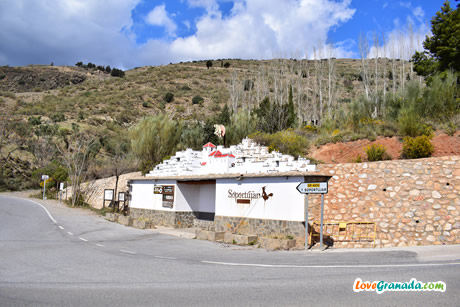 Aproximate fares to some of the Alpujarra's villages:
Granada - Lanjaron:
55 € (tariff 1), 65 € (tariff 2).
Granada - Pampaneira:
80 € (tariff 1), 90 € (tariff 2).
Granada - Bubión:
85 € (tariff 1), 95 € (tarifa 2).
Granada - Capileira:
90 € (tariff 1), 100 € (tariff 2).
Tariff 1:
Monday-Thursday from 7:00 a.m. to 10:00 p.m., Friday from 07:00 a.m. to 9:00 p.m.
Tariff 2:
Monday-Thursday from 10:00 p.m. to 7:00 a.m., Friday from 9:00 p.m. to 7:00 a.m. Saturdays, Sundays, holidays.
Getting to the Alpujarras By Bus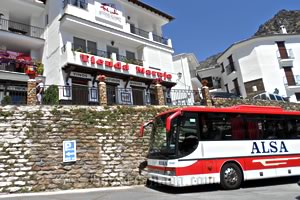 Buses between Granada and the Alpujarra are run by Alsa.
Between Granada, Lanjaron and Orgiva there are several buses daily, but between the capital and most other communities in the Alpujarras, only a few buses each day.
The same bus connections also link the villages of the Alpujarras.
Buses Granada - Lanjaron, Orgiva - Granada
It costs between
4 and 7 euros
to go to the villages of Lanjaron, Orgiva, Pampaneira, Bubion or Capileira.
Where to Buy Tickets and Bus Timetables
Company: Alsa. Tickets and timetables at www.alsa.es; phone 902 422 242, 24 hours service.
Location of the Alpujarra
You Might Also Be Interested In
Page Updated: Mar 21, 2020
©
Copyright
• LoveGranada.com • Any use of the content, including copying of it in whole or in part is prohibited.
Opinions about How to Get to the Alpujarra
By Car vs by Bus
If you have or rented a car of course you need to go by car, it is he most practical thing to do. If the plan is only to visit only one village, for example Pampaneira, the bus is a good option.
There are very few buses and if you get off the bus in one village, you might not have another bus to go to another village. In the car you can stop wherever you want, there are many interesting places to visit. The Alpujarra is unique.