Where to Eat in the Alpujarras - Tipical Food and Cuisine
In the
the Alpujarras
, stand out casseroles, stews and hot pots, made with pride and knowledge by those who know what good food and good wine is.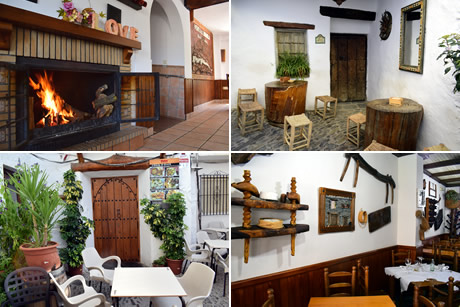 A
good way to get to know Granada
and its history is
by taking a tour
. There are several interesting
free and private
tours offered by Civitatis:
Free Tour of Granada
: What better way to get to know the hisotric centre of Granada than on a
free walking tour
with a local expert guide?!
Private Tour of Granada
: Discover the hidden treasures and secrets of Granada
exclusively just for you
and your partner, friends, or family.
In Lanjaron the popular stews are the stew of fennels and remojon of orange (orange, sugar and oil); in Busquistar, rabbit stew (estofado de conejo); in Capileira, pot of chestnuts (potaje de castañas) and gypsy pot of potatoes (olla gitana de patatas) in Trevelez.
In Pampaneira, porridge (las gachas); in Mecina-Bombaron garlic porridge (las gachas de ajo 'quemao'); in Valor, the pickled partridge (la perdiz escabechada); in Rubite, roasted pig's head, etc.
The pork meat products are the most popular in the Alpujarras, such as sausages, black pudding, pork sausages and others. The ham, especially Jamon de Trevelez, is the most famous.
In the A1pujarras you can enjoy the curds and almond cakes and Ala-Ju 'Soplillos' of Arab origen.
The best vines are the vines that come from the North and the South-West of Granada.
Tropical Coast Cuisine
The Costa Tropical cuisine based on ancient tradition, squid, blue fish marinades and sardines.
Cuisine of Granada
Arabo-Andalusian cuisine: a pot of San Anton and the Sacromonte omelette, typical dishes from the Alpujarras, famous Trevelez ham.
You Might Also Be Interested In
Page Updated: Mar 21, 2020
©
Copyright
• LoveGranada.com • The reproduction of the whole content or parts of it is prohibited
Personal data
protection policy
.
Opinions about Gastronomy of the Alpujarra
Traditional dishes, homemade food
We tried typical food in Capileira: the baked steak and the Alpujarra's dish. The restaurants of the Alpujarra offer traditional gastronomy, a homemade food and family treatment. Most of the dishes are made from meat, so Alpujarra is an ideal place for us. I think it would be difficult for a vegetarian to find something other than the Spanish omelet.