Festivals of the Alpujarra in Granada - Traditional Celebrations and Fiestas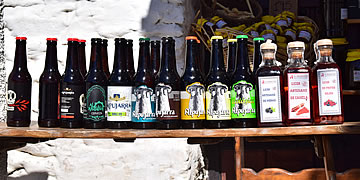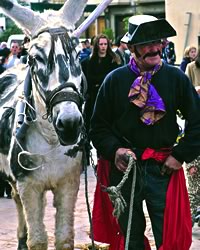 ☞
If you want to
enjoy a special visit
these guided tours offer unique opportunity to discover Granada.
☆
Alhambra + Albaicín + Sacromonte Tour
: a
combination of the complete tour
of the Alhambra (Palaces, Alcazaba, Generalife) + the Albaicín + the Sacromonte.
☆
Albaicin and Sacromonte Guided Tour
: discover this
old arab quarter
of Granada with this
guided tour
.
Chestnut Festivals: the 'Mauraca'
In many villages in the Alpujarra a Chestnut Festival is held on Halloween night or the first days of November.
This fiesta is called "castañada" or "mauraca". During the fiesta a big amount of chestnuts are roasted and shared with everybody together with a typical liquor named "anis" and other drinks. This takes place in the village's main square.
Everybody is invited, locals and visitors, to celebrate All Saints Day. This date is a public holiday in Spain and there is usually a long Bank Holiday weekend.
This tradition dates back centuries, when villagers celebrated the beginning of Autumn collecting chestnuts and roasting them together. There are plenty of ancient chestnut trees in this area of Granada, dating back to Roman times.
Other Traditions in the Alpujarra
Among the traditions that have survived in
the Alpujarras
are several festivals, most notably those of the Moors and Christians, symbolic representations of the clashes that took place between them in the sixteenth century.
Holidays in The Alpujarras
As for music, a mention should be made of the troubadours. The trovo improvisation is organized into stanzas of songs that occur as singers answer one another.
On the other hand, held annually since 1982, is the Traditional Music Festival in the Alpujarra, on the second Sunday in August, which has helped to preserve the traditional folklore of this land.
Alpujarras Craft
The most interesting craft demonstrations will find in the silk workshops that formerly existed in the area. Curtains, bedspreads and blankets are very popular among visitors.
You Might Also Be Interested In
©
Copyright
• LoveGranada.com • Any use of the content, including copying of it in whole or in part is prohibited.