Granada Metro - Inauguration, Map, Timetables, Prices and Stations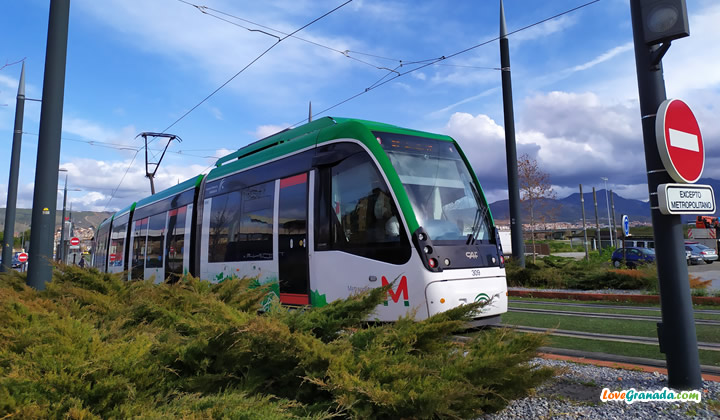 The
Granada Metro
(still not in commercial operation) crosses the city from north to south, joining the capital with the nearby villages of Armilla, Albolote and Maracena.
Probably the correct name should be the
Light Metro
or
Trams
, because only three stops are underground.
The tests have started on the 21st of March. Commercial operation is scheduled for July 2017 but probably will be delayed yet again.
The average speed, that includes stops at metro stations, will be approximately 20 kilometers per hour, with a 20 second stop.
Each train will have air conditioning, video surveillance cameras and capacity for 200 people.
The Map of the Granada Metro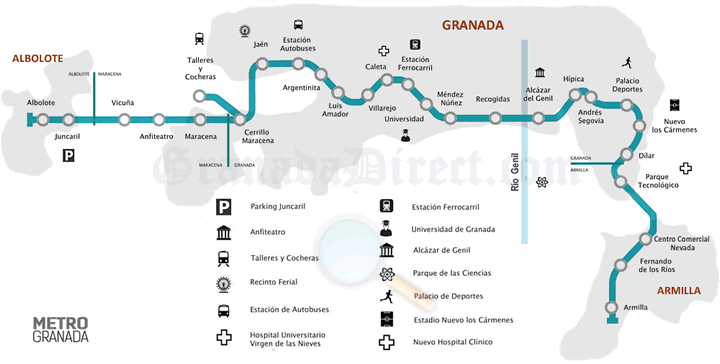 The metro has a length of 15.9 km and 26 stations. The 83% of its route are on the surface and the 17% underground.
The metro stations are:
Albolote
» Juncaril » Vicuña » Anfiteatro » Maracena » Cerrillo Maracena » Ctra. de Jaen »
Granada Bus Station
» Argentinita » Luis Amador » Villarejo » la Caleta »
Granada Train Station
» Universidad (University) » Mendez Nuñez » Recogidas » Alcazar del Genil » Hipica » Andres Segovia » Palacio de Deportes » Estadio Los Carmenes » Dilar » Parque Tecnologico » Sierra Nevada (shopping centre) » Fernando de los Rios »
Armilla
.
Travel time
The entire journey takes about 48 minutes. 22 minutes from Albolote to La Caleta and 26 minutes from Armilla to La Caleta.

Price of the Trip and Where to Buy the Tickets
The approximate price of an ordinary ticket is
1,35 €
. If you buy a travel card the price is
0,82 €/trip
.
Monthly Card offers unlimited travel during 30 days, and with Plus 45 Card you can travel 45 times during 30 days.
We still have to wait for the official publication of the price by the Junta de Andalucia (the Regional Government).
Each stop will have a vending machine where you can buy the single ticket or the travel card.
The green card of the
metropolitan buses
(from the villages near Granada) can also be used. People who transfer from the metropolitan buses to the Metro will pay 0,62 €.
The
ordinary tickets
and the
travel cards
of the
urban buses of Granada
(big red buses, small
Alhambra buses
and
Lac
) are
not valid for the metro
.
Card Type
Price / Top up
Jorney Price
Num. of Trips
Single Ticket
1,35 €
1,35 €
1
Travel Card
5, 10, 20 €
0,82 €
5 € / 6 trips
Consorcio Card
5, 10, 20 €
0,82 €
5 € / 6 trips
Monthly Card
40 €
unlimit.
1 month unlimit.
Plus 45 Card
35 €
0,78 €
45
Tourist Card
4,5 €
unlimit.
1 day unlimit.
Tourist Card
13,5 €
unlimit.
5 days unlimit.
Granada Metro Timetables and Frequencies
The tram will run every day of the week, from Monday to Sunday, from 6:30 to 23:00.
On Fridays, Saturdays and eve of holidays: there is night service from 11 p.m. to 2:00 a.m. with a frequency of 30 minutes.
Bus frequency every
8 to 10 minutes
in rush hour, and
30 minutes
when there is less demand (first hours of the morning and at night).
Monday-Thursday
Friday
Saturday
Sunday
6:30-7:30
15 min
15 min
-
-
7:30-9:30
10 min
10 min
15 min
15 min
9:30-20:30
10 min
10 min
10 min
10 min
20:30-23:00
15 min
15 min
15 min
15 min
23:00-2:00
-
30 min
30 min
-
How to enter the train? Are there any reserved areas?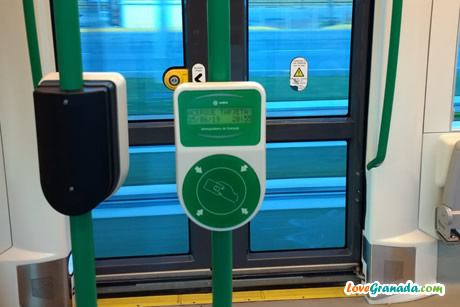 You can enter or leave the train through any door.
There is an area on each train reserved for people in wheelchair or with baby strollers.
Use the double doors to access these areas that are located next to them.
You can take your bike on to a train when there are not many people.
What is better, to use the metro or to travel by buses?
The metro does not reach the majority of the tourist attractions of Granada and the metro card cannot be used on the
city buses
. You would need to buy two travel cards, one for the metro and another one for the buses. Also the money left on the cards (trips/money not used) will not be returned.
It is more practical for a tourist (who is only visiting Granada) to use only the city (red and lac) buses (unless you need to go to the villages Albolote or Armilla).
The
fares for travel on buses
and the metro are similar, and by bus you can get to all the tourist attractions.
©
Copyright
•
LoveGranada.com • The reproduction of the whole content or parts of it is prohibited
Did you visit Granada? Please, share your experience