Granada City Buses - Fares, Tickets And Timetables
Granada's urban bus network is managed by the Transportes Rober bus company. On this web page you can find information on Granada's city buses, such as bus network maps, fares, timetables, and also buses to the Alhambra and Albaycin.
Ticketing System of Granada City Buses
Granada's city bus system is rather complicated. Here we will explain how it works.
There are two types of city (urban) buses in Granada: blue buses (LAC) and red buses. These buses use two different types of ticketing systems, but the same single ticket or travel card is valid on both blue and red buses.
What is the LAC (high-capacity line) of Granada? It is the bus route that crosses the centre of the city. It used to be the only route, but now there are four other routes that cross the centre trough Gran Vía Street (SN1, SN4, C1, C2) and four routes that cross Granada trough Camino de Ronda (SN2, SN5, U2, U3).
Red Buses - big city buses and small Alhambra/Albaicin/Sacromonte buses
You can buy a single bus ticket or buy and top up a travel card directly on the bus by paying the driver, or at the vending machines at LAC bus stops.
You cannot buy a single ticket or travel card from newspaper kiosks or tobacconists.
You can enter these buses only through the front door.
Blue Buses - LAC, high-capacity long buses
Here, it is just the opposite. You cannot buy bus tickets from the driver. The only way of buying your single ticket or travel card is by paying at ticket vending machines that are located at city bus stops.
You cannot board a bus without first buying and validating your travel card/pass or single ticket. There are ticket inspectors on the buses and you can get a fine of 20 euros. If you do not pay this fine within 4 days, it increases to 250 euros.
You must validate your trip each time you board or change buses by simply placing or swiping the card or ticket (which has a barcode) on the small validating machine or on the bigger vending machine.
There is no need to validate the single ticket after purchasing it at the LAC bus stop but you must validate the ticket before boarding LAC bus if you bought the ticket on a red bus.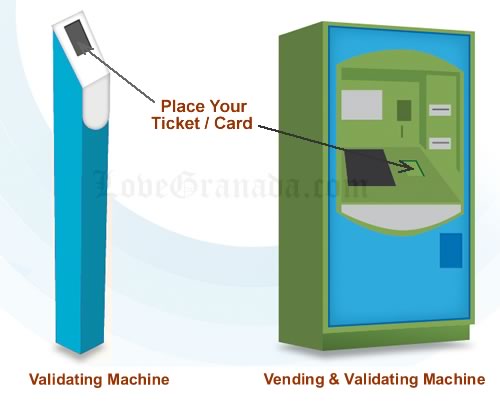 You can also top up your travel card, check your balance or see route maps at ticket vending machines.
Swipe your card only once (one time for each traveller). If you swipe your card twice, you will be charged twice.
You can enter the bus through any of four doors.
The drivers usually do not answer questions or give advice.
If a ticket inspector asks to see your permission to travel, show them your travel card (which you have swiped) or single ticket.
Lost Property
If your lost property is found, you can collect it from the offices of Transportes Rober (Granada City Buses) located in the centre of Granada, in Acera del Darro 30, Los Montes Orientales House, n 22. Here you can also find free bus maps, and make suggestions or complaints about bus services.
We Answer Your Questions
Are dogs allowed on Granada city buses?
No dogs, or any other animals, are allowed on buses except guide dogs, which are the responsibility of the owner.
Is there a city bus at 6 am that goes from Camino de Ronda to the bus station?
There is no bus at this time. The first buses are the routes SN1 or SN2 that pass through Camino de Ronda at about 06:50.
Up to what age do children travel free on Granada city buses
Children up to 4 years of age travel free on Granada urban buses.
How long does it take from Paseo del Violon to the Bus Station?
It takes approximately 25 minutes by bus number 3 (depending on traffic).
What bus number would take me as close as possible to "Aquaola"?
You can go to Aquaola Water Park by Granada city bus number SN1, taking it to a village called Cenes de la Vega. Get off at Plaza de Villacantoria (or Aquaola). It is the first bus stop when you enter Cenes de la Vega. The journey takes approximately 15 minutes.
Bus SN1 passes through the Paseo de Salon and Puerta Real in Granada. From Plaza Villacantoria (in Cenes) you can reach the Water Park by minibus, which leaves from the same bus stop (Plaza de Villacantoria) every 15-20 minutes from 11:00 h to 15:00 h and 18:00 h to 19:45 h, or you can walk, but it is uphill.
Information Related to the Granada City Buses
Opinions about Granada City Buses
Nearly impossible for the visitor to work out
We used the buses but it was trial and error. Unbelievably there are no printed bus maps and several different systems so it is nearly impossible for the brief visitor to work out which buses to get.
Also we tried asking for Bono ticket on the bus but never got given one.
Why cant they be available online or at Tourist Info Offices who incidentally are quite ignorant about the buses or any day trips out of the city
Granada urban bus service
Excellent buses along with city and urban bus service not forgetting the drivers and the people of Granada (Paul)