Sightseeings, Places to Visit and Places to See in Granada
This page contains descriptions of Granada's beauty spots, popular areas and tourist attractions that you can visit, everything Granada has to offer you during your stay. The history of the districts of Granada: Generalife, Sacromonte, Albaycin.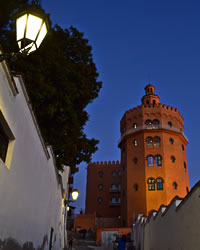 More Information about Granada Places and Granada Province
Opinions about Beauty Spots in Granada
Fantastic place to visit
Loved visiting Granada, been several times. the city is a fantastic place to visit, steeped in history it will always have a place in our hearts. on each and every visit that we've made we have always been made welcome. The people of Granada are a credit to Spain and the Spanish way of life.
Sadly we can no longer get flights to Granada from our part of England (Liverpool and East Midlands) If flights were to resume you would find us on the first plane. So thank you to the people of Granada for making our visits so memorable (Cliff).
Would you like to leave a comment about Granada places?