Rodriguez Acosta Foundation in Granada - Hidden Astounding Oasis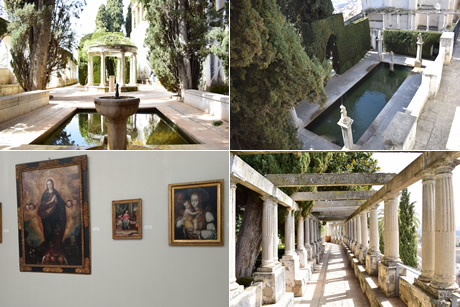 Jose Maria Rodriguez Acosta (1878-1941) was a painter from Granada who devoted solely to his own work, as their family heritage allowed him that luxury.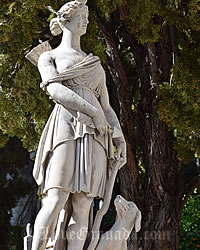 The house where Rodriguez Acosta Fundation-Museum is situated is a compendium of styles and was decorated with objects brought from all over the world.
Hence their exotic appearance. It has beautiful gardens with ponds, Palomino frescoes, statues, carvings from Baptist and paintings from Bocanegra, magnificent views over Granada and hidden tunnels from the Alhambra next door.
Type of Visits, Entrance Tickets and Opening Hours
Type of Visits and Entrance Tickets
The Rodriguez-Acosta Foundation can only be seen as a guided tour.
The museum has two types of visits - general and complete.
The general visit and comprises an outdoor walk through the carmen-studio designed by the Granada painter Jose Maria Rodriguez-Acosta at the beginning of the 20th century.
It includes a tour of the different courtyards and terraces, the underground galleries and the
museum
, which includes the private collection of the Granada historian Manuel Gomez-Moreno Martinez.
The general visit lasts approximately 1 hour and costs
5 euros
(does not include the Library).
The visits start every 30 minutes from 10:00 to 16:30.
The complete tour, that includes the library, lasts approximately 1 hour 20 minutes and costs
6 euros
.
Completa visits start at 10:00 and 10:30, or at 16:00 and 16:30 (18:00 and 18:30 in summer).
There are discounts for pensioners, children, youth and disabled. Children under 12 are free.
Opening Hours
Winter timetable (15 October - 14 March): 10:00-16:30.
Daylight saving time (15 March - 14 October): 10:00 - 18:30.
Tickets can be purchased at www.fundacionrodriguezacosta.com
Contact Details and How to Get to the Foundation Rodriguez Acosta
Contact Details
Address: Rodriguez Acosta Foundation Museum, Granada, Callejon Nino del Royo 8.
Phone: 958 227 497.
How to Get to the Foundation
Take the minibus
Alhambra Bus
route C30 or C35 from
Plaza Nueva
, get off at "Carmen de los Martires'.
The stop is only 100 meters from the 'Fundacion Rodriguez Acosta'.
Tip:
its impossible to park nearby, it is advisable to take
public transport
or walk. You can also leave your car in the
parking of the Alhambra
.
©
Copyright
•
LoveGranada.com • The reproduction of the whole content or parts of it is prohibited
Personal data
protection policy
.
You Might Also Be Interested In
Opinions about Rodriguez Acosta Foundation
Outstanding
Very impressive home and gardens with lovely views over Granada. A highlight of our stay in this magical city. Miguel was an excellent guide.