House Rental in Granada - Rent House in Granada with Pool, Garden
We offer house rental in Granada, near the Alhambra, in the Sierra Nevada ski resort, or on the tropical coast of Granada, where you can spend your holiday not only swimming or skiing but also playing tennis, golf, or just relaxing.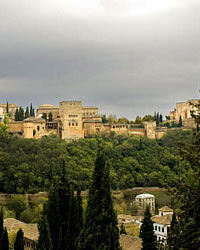 To make your holiday the most comfortable possible, most rural houses in Granada appearing on our website offer, apart from the usual amenities of TV, DVD player and towels, such extras as table tennis, fitness equipment, bicycles and boardgames.
We also offer house rental in Granada with a pool, rural houses in the mountains of the Alpujarra, or in the villages near Granada. Leisure areas, bars and restaurants are located nearby.
Price: 5000 €/week • Persons: 32 • Bed: 14 • Pool: yes
Jewel of Andalucian architecture, with own chapel, a tennis court, Arab gardens, swimming pool, 12 luxury bedrooms and amazing views.
Price: 880 €/week • Persons: 10 • Bed: 4 • Pool: yes
Beautiful country house in the Valley de Lecrin, Valley de Alegria, located in an natural environment with some unbeatable views to the Valley.
Price: 560 €/week • Persons: 4 • Bed: 5 • Pool: yes
Rustic style house to rent in Lanjaron with pool and garden where you can also enjoy the barbecue and beautiful views of the mountains.
Price: 795-995 €/week • Persons: 6 • Bed: 3 • Pool: yes
Rural house located on the edge of the charming village of Restábal, halfway between Granada and the Costa Tropical, in the Lecrín Valley.
Price: 330 €/week • Persons: 6 • Bed: 2 • Pool: no
The house is located in a quiet village Pitres in Alpujarras. It is a good place for hiking, ideal cottage for families with children.
Price: 117 €/night • Persons: 6 • Bed: 9 • Pool: yes
Country house built in the seventeenth century located in the Sierra Nevada Natural Park with beautiful roads and paths for walking.
Price: 380 €/week • Persons: 4 • Bed: 2 • Pool: no
Country House is located in the beautiful village of Bubión, Alpujarra, in Sierra Nevada National Park, built in typical Alpujarreño style.
©
Copyright
•
LoveGranada.com • The reproduction of the whole content or parts of it is prohibited
Information Related to the House Holiday Rentals in Granada