Palm Sunday in Granada - Processions and Fraternities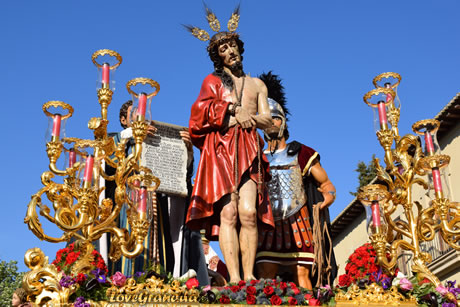 On Palm Sunday, five cofradías (fraternities) go through the streets of Granada.
At 16:00, when the church of Nuestra Señora del Perpetuo Socorro opens its doors to let out the popular procession called "La Burriquilla", Holy Week in Granada begins.
This procession represents the triumphal entry of Jesus into Jerusalem, and many children take part in it by dressing up in biblical costumes and carrying palms. The best place to see it from is when it passes under the Arco de Elvira.
At 16:45, the procession of the Cautivo de Granada and the Virgen de la Encarnación begins at the church of Sagrario, next to the Cathedral.
The
Church of Santo Domingo
, in the heart of the historic district of
Realejo
, opens its doors to the procession of Santa Cena Sacramental and Maria Santísima de la Victoria at 18:00.
Also at 18:00, and right at the foot of the Alhambra's hill, the procession of Nuestro Padre Jesús de la Sentencia and María Santísima de las Maravillas begins from the church of San Pedro and San Pablo.
Finally, the procession of Nuestro Padre Jesús Despojado comes out at 19:00.
Timetables and Itinearies, Palm Sunday in Granada
©
Copyright
•
LoveGranada.com • The reproduction of the whole content or parts of it is prohibited
Personal data
protection policy
.
Information Related to Palm Sunday in Granada