Holy Wednesday in Granada - Brotherhoods and Processions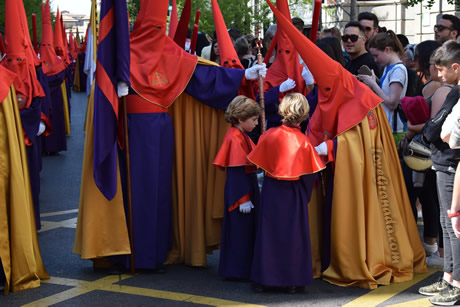 At 16:45 the first cofradía of the day arrives at the Tribuna Oficial in the Calle Ganivet: Santísimo Cristo del Consuelo y María Santísima del Sacromonte, known as "Los Gitanos" (the gypsies).
This is one of the most beautiful and breathtaking processions of Holy Week in Granada.
Without a doubt, the best place to see it from is on its way back to the Abbey on top of the
Sacromonte
, where the gypsies receive the icons with bonfires and saetas (prayers sung in flamenco style without instruments).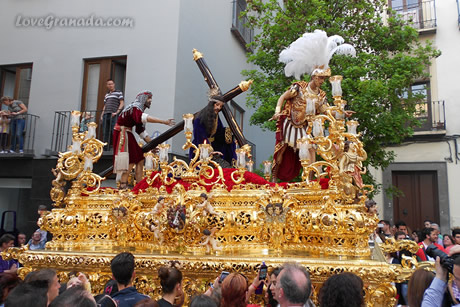 The University of Granada has its own religious brotherhood, whose icons are those of Nuestro Señor de la Meditación and María Santísima de los Remedios.
Their procession leaves the university chapel (the parish church of the Santos Justo y Pastor) at 17:00.
The participating students and professors wear their penitential robes, and a number of them (up to 30) take part as costaleros, who are hidden from view as they bear the huge weight of the trono's structure, which shrouds them.
Holy Wednesday is a big day at the Realejo: three processions parade from their churches.
At 19:20, the costaleros of Nuestro Padre Jesús de la Paciencia and María Santísima de las Penas struggle to pass through the narrow doors of the church of San Matías and down the steps that lead to the street of San Matías. This is the best vantage point.
You will see the purple nazarenos of the cofradía of Nuestro Padre Jesús Nazareno and María Santísima de la Merced arriving at around 20:10 to Plaza de los Girones from the Monastery of the Carmelitas Descalzas.
And at 19:15, the crowds wait in the square by Santo Domingo church to see the popular procession of the Virgen del Rosario y Nuestro Padre Jesús de las Tres Caídas. The same crowds gather again long after midnight to accompany the cofradía on their return.
Timetables and Itinearies, Holy Wednesday in Granada
©
Copyright
•
LoveGranada.com • The reproduction of the whole content or parts of it is prohibited
Personal data
protection policy
.
Information Related to Holy Wednesday in Granada