Alhambra for People with Disabilities - Access Routes and Tickets
At the moment visitors with reduced mobility can only see about 50% of
the Alhambra
, since the rest is not accessible yet.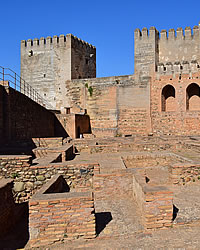 Gradually the Patronato of the Alhambra is introducing measures so that people with reduced mobility could access about 70% of the monument. It is estimated that people with disabilities would need help of others to access 30% of the Alhambra.
The remaining 10-20% will never be accessible because these parts of the Alhambra have stairs, abrupt level changes, etc...
Unfortunately, this includes some of the most interesting parts of the monument: the Alcazaba tower and the interior of the
Nasrid palaces
.
You can see which parts of the Alhambra are not accessible for disabled people looking at this map.
The Alhambra Tickets for People with Disabilities
The Alhambra ticket price for people with disabilities is
8 euros
, but websites like ticketmaster charge a commission of
1.40 euros
,
9.40 euros
in total (6 euros cheaper than the general admission price).
Where to Buy Alhambra Tickets
You can
buy tickets to the Alhambra
in ticketmaster.es.
During the selling process, after selecting the date and time of entry to the Nasrid palaces, there is an option to choose between "over 65, children under 12 or between 12 and 15, and people with disabilities (over 33%)".
After choosing 'Disabilities of over 33 %" the price of admission changes from 15,40 euros to 9.40 euros.
Where to collect Alhambra Tickets and Where is The Entrance
Upon arrival at the Alhambra main entrance proceed to one of the TicketMaster machines that are located to the right of the Alhambra entrance and insert the same credit card which you used to buy the tickets. The machine then prints the tickets out.
Then you can go through the main entrance and present your Disability Card together with the tickets.
©
Copyright
•
LoveGranada.com • The reproduction of the whole content or parts of it is prohibited
Information Related to the Alhambra for Disabled